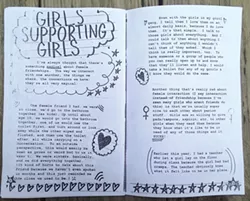 Five years in, the Pittsburgh Zine Fest is virtually a local institution. But even some of its supporters saw something was missing. Hence this week's inaugural Feminist Zine Fest Pittsburgh, four days of feminist-themed readings, workshops, zine-making, a film screening and a dance party.
"The Zine Fair is awesome, but we noticed over the years that there aren't many women or transgender people there," says Erin Oh, co-founder of the Zine Fair and an organizer of the Feminist Zine Fest.
The new fest's events, all free, take place at venues including Highland Park's Union Project and Lawrenceville's Spirit.
Guests and presenters will include out-of-towners — zinesters like Erie native and high school sophomore Moe Williams, who launched her Cutthroat Cutie zine in May. She's hosting a workshop at the fest's main event, Sun., Oct. 18, at Oakland's Frick Fine Arts Building.
"The workshop is about what it means to be a young person in the zine scene and what it means for me to have feminism be a part of the zine I write," says Williams. Cutthroat Cutie's first self-published issue included extensive criticism of her school's dress code. She now runs a school committee dedicated to changing that code. "It's important to get inspired at a young age and be passionate about things."
What does feminism mean to Williams? "Girl power, but not in a sense where other genders are excluded. It involves social justice and women's issues, but it's not just about gender. It's about race and sexual identity," she says.
"As we've gone through the process of organizing the festival, we've learned that feminism means different things to all of us," says Oh. One thing is clear: Feminism can't be limited to a list of parameters. Nor can the fest be limited to one day. It can't even be limited to zines.
"The film we're screening is called Boy I Am, and it follows three transgender individuals as they prepare for transitioning," says Oh. "It talks about how they each understand feminism as they're transitioning. We're showing this film because we're very interested in creating dialogue between transgender people and people who identify as feminists because there is overlap. We want to be really intentional about making that overlap bigger and understanding each other better."