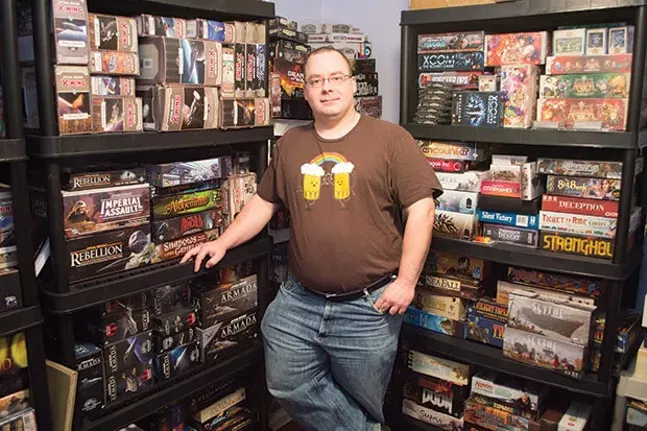 Dustin Felix can't put a number on how many board games are in his collection, but he estimates he has somewhere between 200 and 300, not including expansion sets. His collection ranges from introductory games like Burgle Bros. — a Looney-Tunes-meets-Ocean's-Eleven bank heist — to the strategy-heavy War of the Ring — which recreates Tolkien's Lord of the Rings universe.
But Felix isn't the only one obsessed with the entertainment medium, and he believes we're in a board-game golden age.
"Gaming has existed for a very, very long time," says Felix, 37, noting board games have been found in ancient Egyptian and Chinese ruins. "I'm not sure if we're in the middle or coming out of this renaissance, but we're in one now."
Ian Lauer, a three-year employee at comics-and-game store Phantom of the Attic, says there's definitely been an increase in gamers, and the games they play, in recent years.
"There are more board games coming out than ever before," Lauer says.
Jeff Yandora, owner of Phantom of the Attic, agrees, saying there's currently an "avalanche, a tsunami" of new games and gamers.
Part of that increase is because of Kickstarter campaigns allow for smaller companies to find funding and get their games off the ground. And renewed interest has led to more titles with a heftier price tag than classic games. For example, Gloomhaven, a tactical combat game that was funded through Kickstarter, retails for $140, while Monopoly — which Felix considers a curse word in the gaming community — retails for $15.
The kind of games that are most popular has evolved as well. Mia Urick, who says she was "born into board games," favors cooperative games where instead of going head to head with competitors, players work together to win. One of her favorites is Ten Candles, a horror-themed co-op played entirely by the light of 10 tea-light candles. When the final tea-light fades, the game ends and everybody dies.
Urick's father was a senior volunteer at Gen Con, the largest gaming convention in North America, held in Indianapolis. During its 50th gathering last year, the convention boasted more than 60,000 attendees. Urick followed in her father's footsteps and now regularly participates in a gaming group with friends and family.
Among those in the group is Jason Lease. While still impressive, Lease says his collection falls on the smaller side — 70 to 80 games. He says the gaming group primarily plays games which typically involve thinking out loud during your turn to further advance the group.
"We're very vocal," Lease says. "If a game says it'll take 120 minutes, we usually add an hour to that."
Board games have always been a social activity. Hobby gamer Mark Ortego, of New Kensington, participates in monthly meetings with the Gaming Association of Southwestern Pennsylvania (GASP) which offers 12-hour game days once a month.
Involved in gaming since the '90s, Ortego has amassed a collection of more than 200 games. His collection started small, with introductory games like Settlers of Catan and Ticket to Ride, before advancing to more complex games, like Eldritch Horror and Mansions of Madness.
While most gamers agree board games are in the midst of a resurgence, there is a continuimg debate within the gaming community: What qualifies as a board game? With games coming in all shapes and sizes, many argue over what classifies something as a board game versus a table-top game, which can include card games, role-playing activities and other parlor games.
Many agree a board must be the main component to qualify as a board game, but Urick believes a game like Jenga, which has traditionally been classified as a table-top game, can be a board game.
"The board in Jenga's case is the tower," she says, noting that some "board games" which employ cards as the main component can be board games, too.
Urick isn't alone in this opinion; Ortego and Lease also agree that Jenga and card-driven games can be considered board games.
But the team at Phantom of the Attic is keeping the debate going by sticking to its guns. "There can be card-driven board games and board-driven card games," Lauer says. "But if there's no board, it can't be a board game."