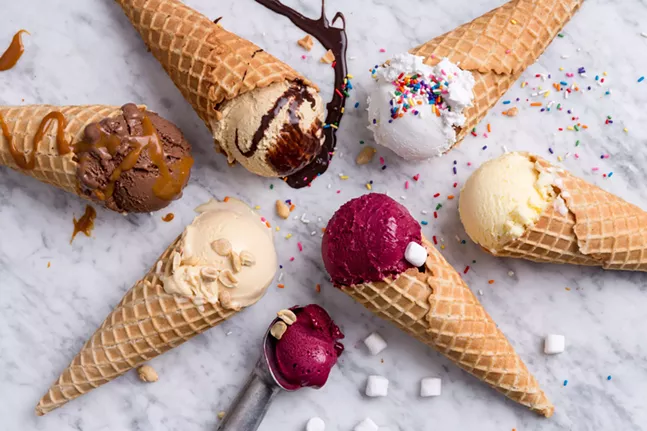 Millie's & My Goodness Market
Millie's Homemade Ice Cream, in its signature hot pink, is teaming up with My Goodness Market for a seasonal Regent Square pop-up.
The ice cream shop, now with storefronts in Market Square and Shadyside, plans for a shop in Lawrenceville, a retro-ice cream truck, a summer soft serve residence in Bakery Square, and plenty of retail locations across the city, announced the new pop-up earlier this week.
And this pop-up will offer more than just retail pints. My Goodness will serve a rotating list of Millie's flavors along with a selection of toppings and both regular and vegan milkshakes. Millie's has even created a new flavor, exclusive to this partnership. Sherree's Cherry, a cherry vanilla ice cream, is named for the market's co-owner Sherree Goldstein, and can only be found at My Goodness.
Millie's is adding a hot pink flair — its signature color — to My Goodness as a way to celebrate the collaboration. Look out for a color change to the market's exterior before the pop-up officially opens on June 18. Visit the store from 10 a.m. to 3 p.m., during the kickoff, for a free scoop!
La Prima Espresso Co.
At the end of May, the popular Strip District coffee company La Prima Espresso Co., opened a new cafe Downtown.
La Prima has been a fixture in the Strip District since 1988. This is its first cafe expansion in 26 years (the first move to Carnegie Mellon University, where the operators have a coffee kiosk).
The new cafe offers coffee and tea, specialty drinks, grab'n'go deli items, along with a selection of pastries. It's located on ground level in the AC Hotel, just steps away from the Convention Center. They're open from 6 a.m. to 6 p.m. on weekdays, and 7 a.m.-3 p.m. on weekends.
Smallman Galley
Last week, Smallman Galley welcomed two new concepts into their building, Mangiamo and Sultry.
Mangiamo is the first restaurant to be run by the Galley Group. The Galley's owners, Ben Mantica and Tyler Benson, have brought Phil Milton, the chef behind Home (Smallman Galley) and Which Came First (Federal Galley), to create the menu and manage the kitchen until staff is hired.
Milton's menu is filled with Italian classics. Snacks list polenta fries, arancini, calamari, and meatballs. Entrees are divided into pastas and paninis, a bill of traditional flavors like chicken parmesan and bolognese.
For brunch, Mangiamo turns Italian traditions into breakfast food, adding eggs to prosciutto to make a breakfast panini and swapping English muffins for polenta cakes in a Benedict. They also feature zeppole, traditional Italian doughnuts.
Sultry is led by Federal Galley alums Brian Forrester and Melissa Barth. Their Eastern European menu is designed around Pittsburgh traditions, but with an upgrade.
Their list is divided into teasers and tastes, the first list small, shareable plates and the latter focused on entrees. Beloved 'Burgh dishes appear with a touch of modern flair. Haluski is paired with a pork confit; potato dumplings are topped by a house-made sour cream. Brunch offers a pąckzi, chicken schnitzel with eggs, and of course, a pierogi.