After 20 years in operation, the Pittsburgh Filmmakers building was purchased by Carnegie Mellon University in December for $3.75 million. While the university has no immediate plans to renovate or move into the property, changes are coming, including the cessation of the public programming that played a significant role at Filmmakers during its tenure.
Under the new ownership, the school plans for its College of Fine Arts to use the facility for collaborative, digital media initiatives. Pam Wigley, assistant dean for communications at the College of Fine Arts, says the space may be used for media and performance work, as well as for film screenings by CMU's Miller Institute for Contemporary Art.
The Oakland facility was a longtime hotspot for local cinema buffs, shutterbugs, and aspiring directors. With its film and photography classes, equipment rentals, theater, and exhibition area, it served as a place where students could learn, work, and show off projects.
Yet news of the sale comes as no surprise, as Pittsburgh Filmmakers, which merged with Pittsburgh Center for the Arts in 2006, has experienced numerous financial and leadership problems over the past few years. "Everybody could see this coming," says PJ Gaynard, associate professor of film production at CCAC's South Campus, who showed his first movie in Pittsburgh Filmmakers' Melwood Screening Room.
Before former PF/PCA CEO Germaine Williams announced plans to sell the building in May, the arts organization had fallen into $500,000 of debt and made major staff cuts.
"We were running a deficit every year for several years," says Christine Holtz, president of the PF/PCA board of directors and professor of media arts at Robert Morris University.
The remaining 19 students from Pittsburgh Filmmakers' certificate program will finish at RMU, which Holtz says has a "robust filmmaking program" of its own.
But while some may lament the loss of the location, it marks a fresh start for Pittsburgh Filmmakers, and a step towards a new, more diverse era of film and media education in Pittsburgh.
For decades, students from schools like the University of Pittsburgh and Point Park University depended on Pittsburgh Filmmakers to earn college credits for photography and film production. But, as Holtz explains, Pittsburgh Filmmakers saw a decline in enrollment over the past decade, and many university partners pulled out.
"At one point, [the university program] was helping us be sustainable, and it no longer was," says Holtz.
Instead, Pittsburgh Filmmakers has moved to the Pittsburgh Center for the Arts Shadyside campus, where Holtz says they plan to focus on being a "community spot."
"Pittsburgh Filmmakers started as a way for the community to have access to expensive analog filmmaking and photography equipment," says Holtz. "We're returning to those roots, where we're going to be offering artists services and short-term classes. We're just not going to be servicing universities anymore."
Equipment from Pittsburgh Filmmakers has already been transferred to the Pittsburgh Center for the Arts and enrollment is now open for winter classes, none of which run for more than eight weeks. A Filmmakers member access program is set to return in early 2019.
Holtz says they hope to offer a fuller array of classes after making some improvements, such as the addition of an equipment cage and better ventilation in the darkroom.

It could also signal a move in the right direction for Pittsburgh's film professionals. While Gaynard believes that Filmmakers excelled in areas like experimental filmmaking and photography, more was needed to support the big film and TV productions coming to Pittsburgh.
"It takes a village to train the workforce to help grow the film industry in Pittsburgh," he says.
As opposed to sending students to Pittsburgh Filmmakers, Point Park now has its entire cinema program, including production courses, in-house. Pitt moved all of its production courses to its Oakland campus.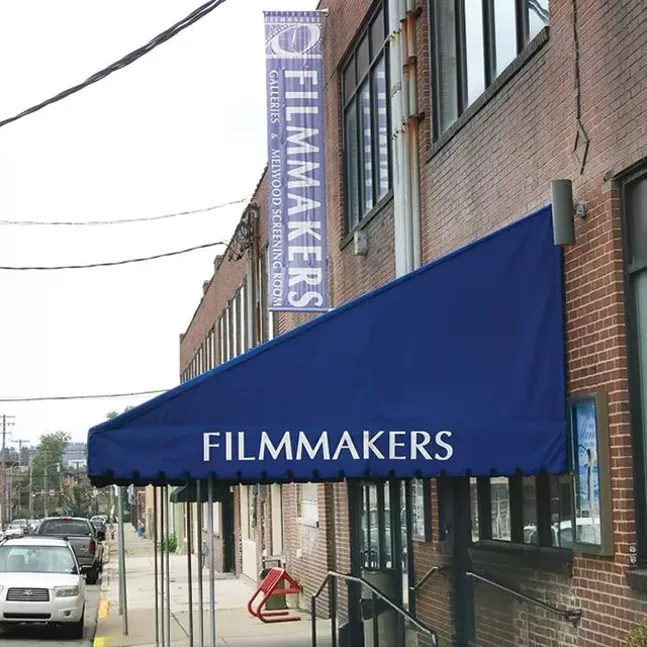 In addition, Gaynard says that CCAC invested $500,000 in its film production program over the past three years.
To Randall Halle, director of Pitt's film and media studies program, the variety allows for a more specialized approach.
"The programs in the region all train students in particular ways and appeal to particular students," says Halle.
He lauds Chatham University's Media Arts program, and singles out particular strengths at other schools, including CCAC's excellent grips and stage design and RMU's cutting-edge documentary work.
Under the direction of Dawn Keezer at the Pittsburgh Film Office, Halle and leaders from other local university film programs are also meeting to discuss new forms of collaboration and cooperation. "Having colleagues and students oriented toward developing the media and entertainment industries in the region with their own strengths will help all of us," he says.
So even as local film fans bid farewell to the Pittsburgh Filmmakers building, the parting seems less like an end and more like a new beginning.
"It's a loss for the community, for sure," says Gaynard. "But it's one that we will overcome."