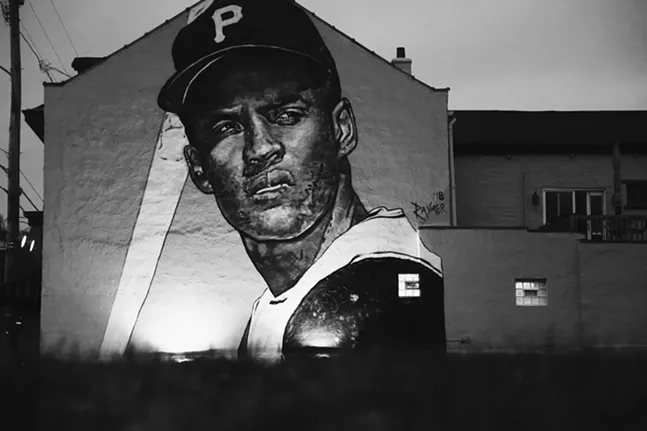 With a new documentary in the works on the life, activism, and career of Roberto Clemente, its filmmakers are soliciting help from Pittsburghers. Director David Altrogge, of Vinegar Hill Productions, is looking for anyone in the city who has stories, memorabilia, photos, or anything else worth sharing about the Pirates player.
The documentary, slated for completion in 2020 or 2021, is currently titled
Clemente
and is being made in partnership with the Clemente Museum. Altrogge and his team already have a slate of interviews lined up, including with former Pirates players Steve Blass, Manny Sanguillén, and Al Oliver, as well as David Maraniss, author of the 2006 biography
Clemente: The Passion and Grace of Baseball's Last Hero
. Altrogge also spoke with Vera Clemente, Roberto's wife, before she passed away in November of this year.
"We got to interview her in September, which was a huge honor," says Altrogge. "It was really an incredible interview."
Altrogge says he was drawn to Clemente as a subject because he wanted to better understand why the baseball player's legacy continued to resonate so strongly after his death. Clemente, who was born in Puerto Rico, played for the Pittsburgh Pirates from 1955 until 1972, when he died in a plane crash while en route to deliver aid to victims of an earthquake in Ecuador.
"I think we live in a really divided time and I think a lot of people are just kind of losing hope that there's good in humanity," says Altrogge. "I think Roberto Clemente, the way he lived his life, living or others and dying for others, is just a reminder that there's good in humanity ... and sometimes doing good starts with small things and can lead to some change in the world like Roberto did."
He says that while the film will naturally include information about Clemente's baseball career, the main angle is to better understand who he was and what he did off the field. To broaden the collection of stories and materials used in the documentary, Altrogge is looking for anyone with personal stories about Clemente, people who have personal photos or home videos, like an old 8mm film canister lying around in their parents' attic. Altrogge says the team is especially interested in hearing from the Latino community in Pittsburgh, and how they specifically felt Clemente's impact.
"We're just really excited to be telling a Pittsburgh-based story about this icon who's both an icon in Pittsburgh and Puerto Rico, and how he bridges such different cultures," he says.
Anyone with stories, footage, photographs, or other relevant can contact
david@vinegarhillcreative.com
.