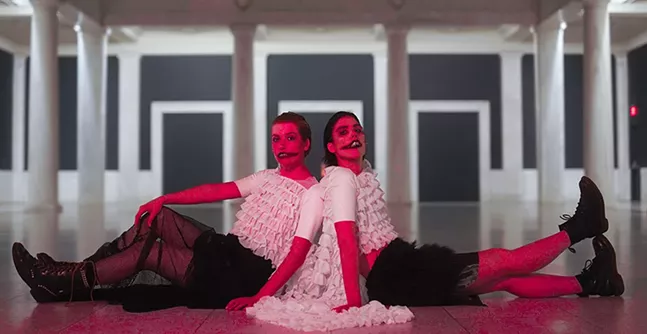 Pittsburgh might never live down its third-place position in the 2011 GQ article "The 40 Worst-Dressed Cities in America." Mention the words "fashion" and "Pittsburgh" together in a sentence, and that article is immediately brought to mind. It's made such an impact, that traveling Pittsburgh fashionistas refrain from telling others where they come from.
Is the fashion sense in Pittsburgh really that bad?
"I have no problem telling people I'm from Pittsburgh," says Elaine Healy, one of the designers featured in Pittsburgh Fashion Week. "It's a really interesting time to be here. It's exciting because there are so many ways you see [its perception] changing."
A few years ago, Taylor Stephanie, fashion chair at The Art Institute of Pittsburgh, tried to start a local chapter of Fashion Group International (FGI). Headquartered in New York City, FGI is a globally recognized nonprofit that has chapters in major cities all over the world. At first, Stephanie was rejected. People didn't connect Pittsburgh with the fashion industry. But, perhaps it was just too early. The fashion community in Pittsburgh was still in its infancy.
Since the GQ article seven years ago, Pittsburgh has grown quickly in other industries such as food and tech. That growth has given way to an influx of money and fresh, young faces. Along with those younger residents come new ideas and a chance to revitalize Pittsburgh's fashion community.
Sitting outside Espresso a Mano in Lawrenceville, Healy pointed out a number of boutiques on Butler Street alone, including Make & Matter. The collaborative studio run by three local designers gives Pittsburgh creatives an opportunity to showcase their work in the form of pop-up style shops.
"Most of the time we see designers leave, they want to go to bigger cities like New York," says Healy. "But there are a lot of designers devoted to staying here as well."
This is evident not only by boutique expansion, but the huge Pittsburgh fashion blogger community, and the recent growth of Pittsburgh Fashion Week (PGHFW). The Downtown Community Development Corporation picked up PGHFW in 2016 after it was cancelled. PGHFW is now centralized in Downtown (before, it was spread across Pittsburgh), added panel discussions and a team of volunteers to help designers with hair, makeup, and execution.
"We've hit this stride and momentum," says Healy. "We have such a great network of existing and emerging design talent here."
Similar to how tech companies aim to make a home in Pittsburgh, Kiya Tomlin, who manufactures her own clothing line on Butler Street, hopes to bring more clothing manufacturing to the city where her husband is head coach of the Steelers. While attending a conference in another city, Tomlin mentioned she wanted to bring manufacturing to Pittsburgh. She was laughed at; conference attendees didn't think that would be possible. Again, fashion and Pittsburgh could not be seen together.
"There are many financial and logistical considerations involved in apparel manufacturing in the United States, and even more so in Pittsburgh, where we lack the apparel manufacturing resources," Tomlin says. "But interest is growing, and as long as people continue to be concerned with living wages, the environment, and waste, there is a platform for local apparel manufacturing to thrive."
As of 2018, Dick's Sporting Goods, ModCloth, American Eagle, rue21, Thread International, and Aero Tech Designs are based and manufacture their products in either Pittsburgh or the surrounding areas.
There is now also a local chapter of FGI.
"I think other cities will be impressed to see us play more of a role in the manufacturing process than they would expect," says Healy. "We have enough to show that soon, [a request like Tomlin's] will be taken more seriously."
Follow staff writer Jordan Snowden on Twitter @snowden_jordan.