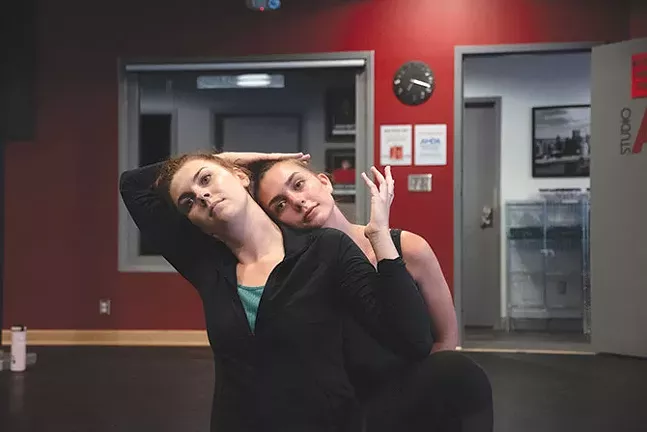 It's a busy week for dance in Pittsburgh, with three exciting new shows being staged throughout the city. Learn where to find them and what to expect below.

---
Project Dance Pittsburgh
10 a.m.-4 p.m. Sat., Sept. 21. Market Square, Downtown. Free. projectdance.com
On Sat., Sept. 21, Market Square in Downtown will host a free performance by Project Dance, a nonprofit organization working to make dance more accessible through outdoor and open-air shows in cities around the world. The performance will feature local and international dancers representing a variety of styles, including ballet, jazz, modern, hip hop, and tap.
On its Facebook page, Project Dance says the goal of these concerts is to bring "hope and healing to humanity and offer a positive message to those who attend."
The Market Square show is the centerpiece of a three-day event (Sept. 20-22) bringing dancers together to perform and develop themselves professionally through meetings, expos, and networking opportunities.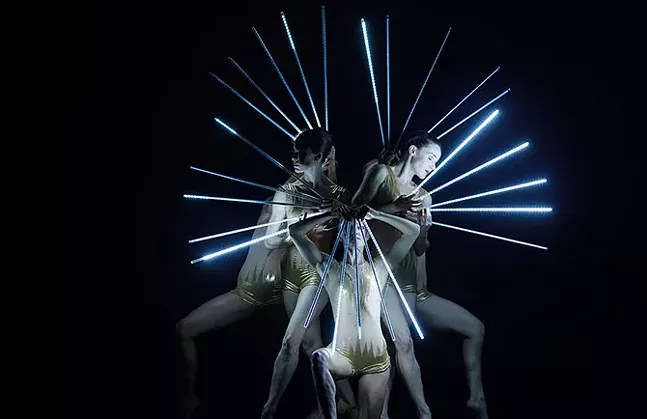 VIVA MOMIX at the Byham Theater
8 p.m. Sat., Sept. 21. 101 Sixth St., Downtown. $10-65. trustarts.org
The Pittsburgh Dance Council of the Pittsburgh Cultural Trust celebrates its 50th anniversary with a fall season of contemporary dance performers from around the world. Included in the lineup is VIVA MOMIX, playing Sat., Sept. 21 at the Byham Theater.
MOMIX, a Connecticut-based company of self-described dancer-illusionists led by founder and artistic director Moses Pendleton, will present several new works combining choreography with light, shadow, and props. It will also include a collection of the company's established pieces.
A press release describes MOMIX as "surreal, wondrous and massively creative," all qualities evident in its past Pittsburgh performances. In 2011, the company's production of BOTANICA took the stage at the Byham Theater with spectacular imagery, such as a "large triceratops skeleton that one of the dancers rides, and then is eaten by," according to a Pittsburgh City Paper article about the show.
VIVA MOMIX fits in with the goals set out by Randal Miller, director of dance programming and special projects for the Pittsburgh Cultural Trust. In a press release, Miller said for the milestone anniversary he wanted to create a dance season that "honors tradition while bringing the future into focus."
Over the past 38 years, MOMIX has taken innovative, forward-thinking approaches to contemporary dance, including performing in IMAGINE, one of the first 3D IMAX films to be released worldwide. The company has also worked in film and television, recently appearing on PBS' Dance in America series.
Time: Unbound at Charity Randall Theatre
Sat., Sept 21 and Sun., Sept. 22. Showtimes vary. 4301 Forbes Ave., Oakland. $10-18. exhalations.org
Exhalations Dance Theatre attempts to explore the concept of time with two performances at the University of Pittsburgh's Charity Randall Theatre.
On Sat., Sept 21 and Sun., Sept. 22, the Pittsburgh-based contemporary dance company will present Time: Unbound, a showcase of seven new choreographic works exploring the "varying human experiences and perceptions of time," set to modern music by alt-pop duo Twenty One Pilots, Norwegian electronic act Röyksopp, and more.
Katherine Mann, founder and executive director of Exhalations Dance Theatre, believes the performance strives to portray a difficult to define, abstract idea through creative movement.
"[Time] really isn't tangible despite our wanting to capture it in minutes or even years," says Mann. "It's something that is always moving but can simultaneously be a single moment. Dance is just so similar to time in that way. It is movement as a series of moments. Dance can capture the emotion behind this paradox in a way words just cannot."
She goes on to explain that some of the pieces include "constant movement to represent how time continually moves forward," while others "depict how we as humans relate to each other through our own timeline." A total of 16 dancers will bring to life contributions by Exhalations directors and resident choreographers, as well as a new work by guest choreographer Kelsey Bartman from fellow Pittsburgh company, Texture Contemporary Ballet.
Mann adds that this is the first time the company will perform at the Charity Randall Theatre.
"This is a new venue for us, but we're looking forward to working in the new space."