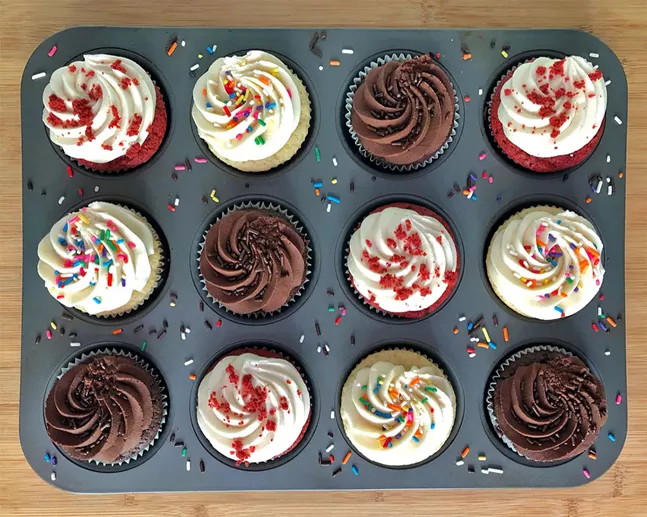 Good Chroma
When Good Chroma, an all-vegan bakery, was shut down in October, owner Tyler Czuczman stayed positive. "This is not the end of Good Chroma," the bakery posted on social media.
And he was right: Earlier this week, Good Chroma announced plans to open a brick-and-mortar shop, in either Bloomfield or East Liberty, according to Czuczman.

Good Chroma first opened in 2017, giving vegan another local option for sweet treats. The home-based kitchen appeared at events and markets and soon became a go-to for special occasion bakes.

In mid-October of 2018, the bakery abruptly stopped operations. The shop, unable to meet state health requirements without a storefront, mobile truck, or commercial kitchen, was forced to shut down. Now, the bakery was ready to come back to reach their dream of turning Good Chroma into a full-fledged bakery.

The new location is set to serve both sweet and savory treats and gluten-free goods, along with coffee and other beverages. Online ordering will still be available for local pickup and wholesale remains an option for local vendors. When the bakery is up-and-running, 5 percent of profits will be donated to local animal welfare organizations. Of course, veg-heads will still find Good Chroma at festivals and markets around the city in addition to the store.

Good Chroma is asking for Pittsburgh's help to raise funds for the storefront. Czuczman has created two crowdfunding campaigns on Kickstarter and Honeycomb Credit. As of right now, the Kickstarter campaign is a little over halfway to the goal of $6,000; the Honeycomb Credit campaign is almost fully funded.

To support Good Chroma, visit goodchroma.com.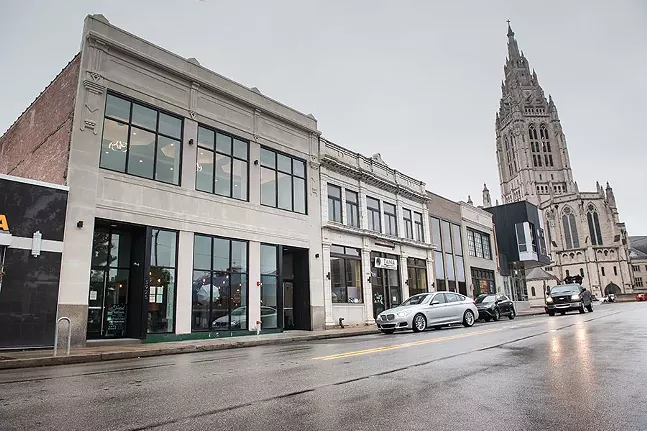 Garbarino's
Four generations of his family's recipes serve as the inspiration for chef Andrew Garbarino's newest concept, Garbarino's.

The new wine bar and trattoria was modeled after his family's original restaurant in Long Island. Chef Garbarino's great grandaunt opened the eatery in 1945, combining her love for Southern Italian cooking with her ties to Genoa in the north. After passing through generations for 51 years, the first Garbarino's closed in 1996.

Now, Chef Garbarino is bringing the family restaurant to Pittsburgh. The trattoria's menu shines with recipes passed through the generations, featuring house-made pasta and Italian dishes like chicken piccata and veal chop parmesan.

Garbarino's officially opens April 12, taking over the space that, until recently, housed La Riviera Bar & Bistro on the ground floor of The Twisted Frenchman. To celebrate the grand opening, Garbarino's is throwing an amaro-sponsored happy hour and giving any diner in the city 30 percent off food, wines by the glass, and cocktails for the remainder of the month.

Alta Via
Big Burrito's latest concept opens in Fox Chapel on April 1.

Alta Via blends cuisine from California and Italy. It's built around big Burrito president and corporate chef Bill Fullers' "passion for great pasta, seasonal vegetables, and the warm comfort of wood hearth cooking."

Handmade pasta is one of Alta Via's anchors, along with a focus on seafood, vegetables, and the use of a wood hearth. The food menu reflects Italian traditions with plates like spaghetti, ravioli, carpaccio, and more. There's a lightness, in both dishes and design, that echos Cali-style.

Reservations for Alta Via's first days can be made from the website, altaviapgh.com.

Pittsburgh Craft Beer Week
For the past six years, Pittsburgh has hosted a seven-day celebration of craft beer, Pittsburgh Craft Beer Week (PCBW). Recently, organizers announced that in 2019, things would be a bit different.

The PCBW organizers took to Facebook with the news, writing, "So, PCBW isn't OFFICIAL this year, BUT we encourage all breweries, bars, restaurants, and consumers to embrace the PCBW spirit, host coolness, imbibe, and raise glasses to all that is beer awesomeness in Pittsburgh April 26-May 5."
Sponsors of past years are welcome to submit events for the week that may be re-posted by PCBW. There will be no official week of beer-centered events.

To submit tips and food news to
CP
, email Maggie Weaver
here
.