Ancient dildos keep turning up. It's evidence of how surprisingly modern our forbears' sex lives were. Even thousands of years ago, our ancestors were making dildos, pornographic sculptures and cock rings — though "dildo" is a bit of a misnomer; "penis-shaped rock" might be more fitting.
Today, the sex-toy industry is robust and rapidly expanding. In 2016, Forbes reported that what had once been a niche market has grown into a $15 billion industry. Far from the days of penis-shaped rocks, now we have products like the Portable Glory Hole and the three-breasted Area 51 Love Doll. Fantastic.
So for our Love and Sex Issue, several staff members reviewed sex toys to help our readers parse all the noise and vibration. Also, my colleagues are not as adventurous as me and have removed their names from their reviews.
Here's what we found.

Scandal: Over the Bed Cross, California Exotic Novelties
This sex toy consists of a network of straps and buckles to restrain your partner in bed, spread-eagle — like George Costanza in the hotel room or that skinny guy in the film Seven (probably bad examples). It's ideal for role-play (says the box), so we opted for the roles of "writer and girlfriend trying out sex toy for a review in City Paper." Not super creative, but whatever.
At first, it seemed sort of unnecessary. Wouldn't ropes serve just as well? But I guess a built-for-sex product is a lot more arousing than MacGyvering one yourself.
If this sounds like your piece of pie, I'd recommend prepping first. Trying to assemble the straps and buckles during the act has a sort of building-an-IKEA-dresser-during-sex vibe, which is decidedly not sexy. If you're more experienced, this might be a solid product to add to your repertoire. — Alex Gordon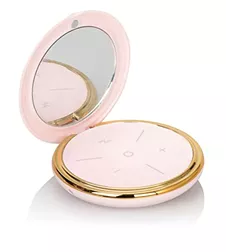 Inspire: Remote Vibrating Breast Massager, California Exotic Novelties
I was flummoxed by this toy at first blush. I wasn't sure what the benefit would be, and with a $138 price tag, results are desirable.
The massager has 10 functions that vary the pulsation and vibration pattern. Each has five speed settings. The remote looks like a makeup compact and toggles through the settings. There aren't straps, so it lays across the chest. For fuller breasts, it may just barely cover the nipples while laying down, so it might have better contact if tucked into a bra. The design and materials were sleek, making it easy to clean.
Used on its own, it was a pleasant if hardly electrifying sensation, but could be a good candidate for pairing with other toys. — Female Reviewer 1
Her G-Spot Kit
,
California Exotic Novelties
At $35, this toy kit packs a lot of literal bang for your buck. It comes with not just one, but two vibrators: a sleek, slightly curved version optimal for G-spot stimulation and a phallic-shaped model complete with heart imprints I can only imagine are meant to simulate the penis' natural ridges. But the second model also comes with what CalExotics calls the "world famous Butterfly Kiss," which is literally a butterfly-shaped mold attached to the shaft that stimulates the clitoris. And on top of all of this, there are three different finger teasers just to make sure you have no problem reaching the big O.
In truth, the kit is highly effective, but there's no escaping the fact you're basically doing it with a robot. And now that the robots have mastered the ever-elusive G-spot, there's no telling when they'll decide to use that power to enslave us all. — Female Reviewer 2
Remote Control Rechargeable Bullet, Sensuelle
This toy is definitely for more adventurous users. While the vibrating bullet can be fun in the comfort of your own bed, this device is best enjoyed away from home, say at a boring charity dinner or your niece's five-hour dance recital. The wireless and discreet remote lets you or your partner turn on and turn up the bullet at will. Simply slip it in, or into your panties, before a night out, and you're in for a real treat. It can also be used by men when placed in tight-fitting underwear, or ya know, anywhere else it will fit.
While the model CP tried was purple, it also comes in pink or black. Have fun testing out each of the 10 different settings. The remote has been tested to work up to 65 feet away. And since the product is rechargeable, you never have to worry about batteries. — Female Reviewer 2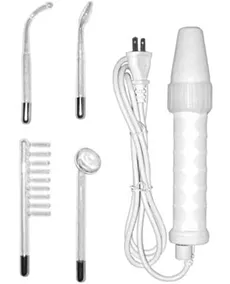 ElectroErotic Neon Wand, Kinklabs
I once went to a physical therapist, who had an item called a TENS unit. The unit sent electric impulses into four pads that were directly over my injury. I remember thinking during one of those sessions, "I wonder what that would feel like if somebody slapped it on your balls?"
Thanks to the $155 Neon Wand, I don't have to wonder anymore. The item is great for those looking for an introduction to erotic electrostimulation or BDSM scenarios that call for some light-to-moderate electrocution of your tender vittles. The wand's large handle comes with ample cord to allow you to plug into a wall socket and still maneuver around. This unit comes with four glass implements that send the purple-colored electric current through the glass and onto your desired area. (And this is safe to use on any desired area, even the most sensitive of both sexes.) The feeling is like several hot needles massaging your skin. It's not exactly painful, but it's also not your run-of-the-mill erotic sensation. If getting shocked is your thing, this item is definitely for you. Also, it goes without saying, don't shock your balls in the shower. — Male Reviewer 1