The polls opened at 7 a.m., and
City Paper
will be covering news and interviewing voters throughout the day. After the polls close at 8 p.m.,
City Paper
will be reporting Allegheny County results. Check here for details throughout the day.
12:42 a.m.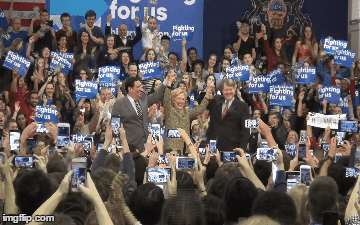 How much love did Allegheny County show Hillary Clinton? As of right now, with 99.7 percent of precincts reported, Clinton received 53.8 percent of the vote from the county's registered Democrats. Sanders received 43.4 percent. Voter turnout among county Dems was about 43 percent; overall turnout was 40 percent.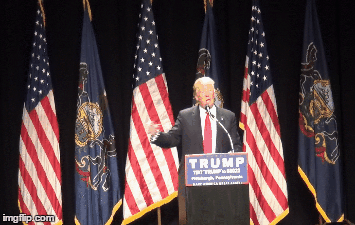 As for Donald Trump, 51 percent of registered Republicans in Allegheny County voted for him. Kasich came in second with 27.2 percent; Cruz received 19.8 percent. Voter turnout among county Republicans was 48 percent.
11:30 p.m.

With 75 percent of precincts reporting, Montgomery County Commissioner Josh Shapiro is the presumptive Democratic nominee for the Pennsylvania Attorney General election in November. Shapiro has 47 percent of the vote. Allegheny County District Attorney Stephen Zappala trails him with 37 percent and Northampton District Attorney John Morganelli is in last place with 15 percent.
CP
's Rebeccan Nuttall reports that at a campaign party at the IBEW earlier, Zappala said he called Shapiro to concede the election. "We're not going to win this race," Zappala said. "We have too much ground to make up."
Stay tuned to
CP
tomorrow for more coverage of the Attorney General race.
11:16 p.m.
.@washingtonpost calls #PAprimary US Senate race for @KatieMcGintyPA

— Ryan Deto (@RyanDeto) April 27, 2016
11:10 p.m.

CP
's Ryan Deto reports that Braddock Mayor John Fetterman has left his watch party at Brew Gentlemen.
With about 68 percent of Pa. results reported, Fetterman has 21 percent of the vote. Sestak has 34 percent, and McGinty is in the lead with 44 percent. About an hour ago when the totals were slightly different, Deto reports that Fetterman said this to crowd:
.@JohnFetterman says getting 23% of vote was amazing considering being outspent 15 to 1. "We came up short, but we created a movement."

— Ryan Deto (@RyanDeto) April 27, 2016
10:52 p.m.
"My only regret is making you all wait." -@zappalaforpa. Tells those gathered that he's "not winning this." pic.twitter.com/tOXJbtbBY9

— Aaron Warnick (@aaronwarnick) April 27, 2016
10:50 p.m.
Allegheny County DA Stephen Zappala has called Montgomery County Comissioner Josh Shapiro to concede the election for PA Attorney General

— Rebecca Nuttall (@PghReporter) April 27, 2016
10:29 p.m.
What do Allegheny County Republicans think? With 81 percent of precincts reported, Trump has received 52 percent of the vote. Kasich is at 26 percet, and Cruz at 20 percent.
9:48 p.m.
Reporter Rebecca Nuttall reports that with 34 percent of statewide votes counted, Shapiro has slight lead over Zappala in AG race, 44 to 42 percent.
Reporter Ryan Deto reports that with 35 percent of Pa. results in, McGinty leads 44 percent in U.S. Senate race. Sestak has 31 percent, Fetterman 24 percent.
As for county numbers, Ashley Murray reports that with 53 percent of county precincts in, Zappala has 75 percent in AG race, while Fetterman is at 42 percent in the race for U.S. Senate. As for what Allegheny County thinks of the Democratic presidential candidates, Clinton has 54 percent of the vote so far, and Sanders has 43 percent. (This is about the same as the statewide breakdown.)
9:00 p.m.

CP
's Ashley Murray is reporting from the Allegheny County Elections Division. As of 8:55 p.m., 23 and 24 percent of the Democratic and Republican precincts were in, with Hillary Clinton receiving 52 percent of the Allegheny County vote, and Donald Trump getting 52 percent as well.
8:00 p.m.
With the polls just closing, our reporters are in the field at watch parties and at the Allegheny County Elections Division waiting for results. Here are some tweets you may have missed, and follow along for more updates.
Paul Robertson, 50, of Downtown, voted for Cruz. "I liked Kasich, but he doesn't stand a chance." #PAprimary pic.twitter.com/ojQDUZ35cz

— Ashley Murray (@Ashley__Murray) April 27, 2016
.@jzwolfe, running for State Rep, sits w/ volunteer for incumbent Rep. @JakeWheatleyJr at Epiphany in Hill District pic.twitter.com/bkO5xe8aba

— Ashley Murray (@Ashley__Murray) April 26, 2016
Waiting for @JohnFetterman to arrive, chillin' with a brew. My two fave things: politics and beer. 🍺 @BrewGentlemen pic.twitter.com/XWkI4KUDZl

— Ryan Deto (@RyanDeto) April 26, 2016
At @JohnFetterman watch party at @BrewGentlemen in Braddock. Live tweeting #PAprimary coverage. @PGHCityPaper pic.twitter.com/XmjyYYebTY

— Ryan Deto (@RyanDeto) April 26, 2016
Last several people to walk out of this Lawrenceville polling place voted for Sanders and Fetterman pic.twitter.com/zQjnNeOy9V

— Ashley Murray (@Ashley__Murray) April 26, 2016
7:30 p.m.

Jessica Wolfe, who is challenging State Rep. Jake Wheatley for his seat, sits side-by-side with Cherita Bryant, a volunteer for the Wheatley campaign, outside of Epiphany Catholic Church in the Hill District. The polling place, for constituents in the 1st Ward-1st District and 3rd Ward-4th District, has had a total of 342 registered Democrat and 97 registered Republican voters cast ballots today. As voters entered, Wolfe greeted each one with a handshake and the promise, "I want to go to the State House and make it about people."
5:35 p.m.

Staff writer Ryan Deto finds some glitches in the state's and Allegheny County's poll-locating apps and websites that can make it hard for voters to find their polling places. A Wilkinsburg resident spent 15 minutes searching the web and talking to strangers in order to find her polling location. And the state's voting website requires users to enter the exact address that was listed on the voter-registration card for the website to function properly.
"I do believe if it is that touchy, we should have better advertising on the website," says Pa. Election Bureau spokesperson Wanda Murren.
You can read the full story here.

3:30 p.m.
According to the Allegheny County Elections Division, there are no numbers available yet on how voter turnout has been today. However, the office says that it has been inundated with phone calls from voters asking about polling locations.
CP
's Ashley Murray has found the Elections Division line — 412-350-4500 — to be busy through the majority of the afternoon. Voters heading to the polls this evening can find their polling places on the county website's
polling place locator
by typing in their municipality followed by street address. Polls close at 8 p.m.
1:30 p.m.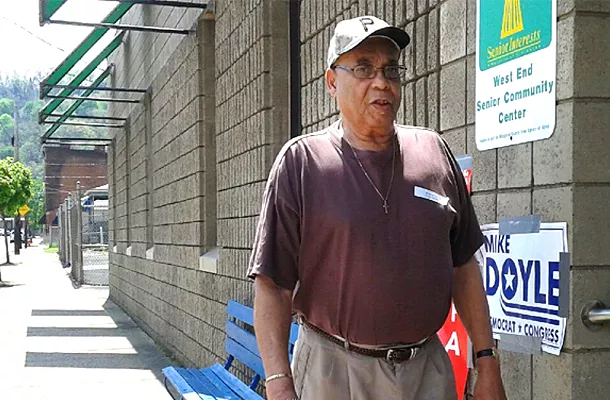 Charles Gordon, of McKees Rocks, has worked the polling place at the West End Senior Community Center on Wabash Street for ten years. He told
City Paper
that so far he's seen about 200-250 people vote today. Gordon spoke to
CP
's Ashley Murray on his break.
Charles Gordon election worker in Pittsburgh

12:30 p.m.
Staff writer Ryan Deto reports that a trans woman in Swissvale was forced to go home and retrieve her official name-change documents before she was allowed to vote. The woman showed up with her voter registration card, which attorney Sara Rose of the ACLU says was unnecessary.
"A lot of people would not go home to get their name change document, that is absurd," says Rose. "I am glad she was ultimately allowed to vote, but I don't want other people to have to go through this. ... The voter registration card is sufficient."
The woman, Jesse Rise, says she was disappointed but undaunted: "I am gonna stay strong in voting."
You can read the
full story here
.
9:30 a.m.
U.S. Senate candidate and Braddock Mayor John Fetterman cast his ballot at the New Hope Baptist Church in Braddock. He expressed gratitude for the support he received during his campaign. When asked by
City Paper
of his thoughts on the
millions of dollars the Democratic Senatorial Campaign Committee has poured in the U.S. Senate candidate Katie McGinty's campaign
, he said: "It's disappointing. You would expect that from the Republicans to pour [money] into a race but not your own party. We ran the best campaign we could given being badly outspent by the DSCC." Meanwhile, his wife Gisele Fetterman is also on the ballot as a delegate for Democratic presidential candidate Bernie Sanders. "It was an easy choice," she told
CP
about being asked to run as a delegate. "Bernie's views most closely aligned with ours. There was no close second."