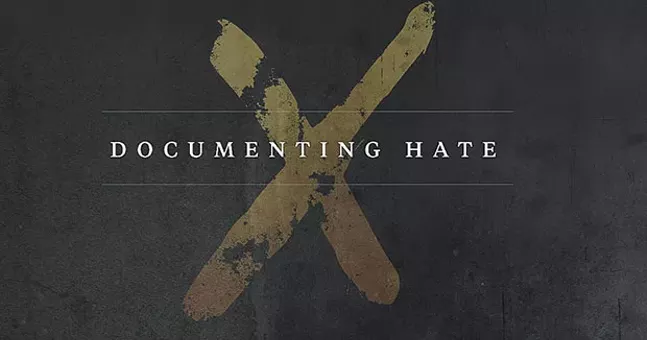 On Nov. 22, a few weeks after the presidential election, an Indian man named Ankur Mehta was allegedly attacked at a Red Robin restaurant in the South Hills Village mall. In addition to the alleged physical assault, Mehta was also subjected to racial and ethnic epithets.
"Things are different now ... I don't want you sitting next to me, you people," Mehta's attacker Jeffery Allen Burgess allegedly said.
According to Bethel Park Police, Burgess believed Mehta was Muslim.
In March, Burgess was indicted by the Department of Justice for hate-crime assault. He has been accused of willfully causing bodily harm to Mehta because of his "perceived race, color, and national origin." If convicted, Burgess faces a maximum sentence of 10 years in prison, a fine of $250,000, or both. The next hearing in the case is set for Sept. 29.
Dozens of activists showed up to a preliminary hearing for Burgess in March. Among them were members of the Pittsburgh chapter of the Council on American-Islamic Relations who decried the incident shortly after it occurred in November.
"These kinds of incidents occur because of a prejudice or an ignorance and a lack of understanding about people who are different from you," says Zohra Lasania, communications coordinator for CAIR. "If we don't address these issues … these incidents multiply and become bigger and bigger."
In an effort to do just that, City Paper recently joined the national Documenting Hate project. Launched by ProPublica, a nonprofit news organization, in the wake of the election of President Donald Trump, the project is aimed at improving data collection related to hate crimes and incidents of harassment and intimidation that arise from racism, sexism, homophobia and xenophobia.
"There has definitely been an increase since Trump has taken over," says Lasania, "… because of his continuous rhetoric of promoting hate. His ideas promote these kinds of incidents."
According to the FBI's latest statistics, Pittsburgh is among the cities with the highest rate of hate crimes in the state. In 2015, the most recent year data is available, Pittsburgh had the same number of hate crimes as Philadelphia, but our city has just one-fifth the population.
And this data is incomplete. The FBI collects data from state and local law-enforcement agencies about how many hate crimes take place per year. But according to Documenting Hate partner manager Rachel Glickhouse, many local and state agencies do not give their data to the FBI.
According to FBI data, there is an average of between 6,000 and 7,000 hate crimes per year in the United States. However, other figures, including an estimate from the Bureau of Justice Statistics, based on annual survey results, indicate the number of hate crimes could be closer to 250,000 each year. According to BJS, part of the reason for that discrepancy is that an estimated half of all hate crimes are never reported to police.
"The information the FBI has is lacking and doesn't cover every single hate crime that does take place across the country," says Glickhouse. "You have these different gaps happening at different levels. First, you have people who just never report it to police, so it can't be investigated, and then you have the agencies not informing the FBI. And also hate crime laws are different in each state."
Glickhouse says another reason for the incomplete reporting lies in the difference between the federal hate-crime law and individual state statutes. If a hate crime takes place in a state that doesn't have a law, it has to be prosecuted as a federal hate crime or, often times, it is simply not prosecuted as a hate crime at all.
"Because there are differences in the law, it can also affect how these crimes are investigated and ultimately prosecuted," Glickhouse says. "So we've identified a bunch of these different issues, and we're hoping to see how we can fill the gap."
Another goal of the project is to shed light on those incidents that do not meet the requirements to be considered a hate crime, such as ethnic intimidation or harassment based on gender, sexuality or religion.
"There's no government agency that tracks those kind of incidents," says Glickhouse. "We wanted to leave it open because people know when they were victimized in some fashion, and whether it was a crime or not doesn't matter to us. We're looking at this wide range of hate incidents. A lot of what we've seen come into the database are harassment incidents of some nature, so clearly there is a problem here."
There are currently more than 100 newsrooms across the country involved in the project, and a few more are added each week. Participating news organizations have already been able to see trends based on the data that has been accumulated since January.
For instance, one major trend has been the number of incidents that involve individuals being told to "go back to Mexico" or another country. Pittsburgh has seen similar incidents in the past, including one in December 2015 when someone tagged the Las Palmas grocery store in Brookline with that exact phrase.
"That's the same kind of language that was used in the Kansas City killings," says Glickhouse, citing a February shooting where the accused gunman allegedly told the two India-born men he shot "get out of my country" before opening fire. "It's a pattern that we've found that reflects more serious crimes that have taken place. What we find in the database is this typical harassment doesn't often rise to something more than that, but there have been these high-profile murders where that rhetoric was used."
Lasania, from CAIR, says the goal of the Documenting Hate project — to raise awareness about hate-related incidents — is an important method for reducing them. For its part, CAIR has worked to bring attention to dozens of such incidents, whether the victim is Muslim or not.
"Whenever we see a hate incident — and it doesn't matter whether the person is Muslim or not — anything that occurs due to discrimination, due to ignorance, we have to document it," says Lasania. "If it's left undocumented, if it's left unaddressed, then these incidents of intimidation turn into bigger incidents of hate-motivated violence."
In July, CAIR partnered with the Union Project and held a bystander-intervention training to help people learn how to address the incidents of harassment and intimidation they witness. Lasania believes the large turnout at the event, and the passion displayed by participants, indicates Pittsburghers have the power to reduce the number of hate incidents that has risen in the months since the presidential election.
"So many people showed up," Lasania says. "That certainly shows that people are aware and people want to stop it. They don't want these incidents to take place."
Twenty-four-year-old Ernest Rajakone is similarly hopeful. He was among those who turned out with CAIR to support Ankur Mehta, who was a victim of hate crime in March. As a fellow member of the South Asian community, he felt it was important to support Mehta, but also to send a message.
"It's very important in today's environment where there's a lot of intolerant and, often times, xenophobic rhetoric, both societally and politically, for victims to know that communities are standing behind them," Rajakone says. "It also sends a broader message to the community at large that this kind of thing isn't acceptable, and there are people out there who are pursuing a tolerant and inclusive vision for our community."
Rajakone works as a community-affairs liaison for the City of Pittsburgh. He interned for Gov. Tom Wolf in 2014, and before that he served as a congressional intern for the U.S. House of Representatives. But none of these accomplishments have spared him from being the victim of ethnic and racial intimidation and harassment.
"At points within my life, there were times where I didn't feel comfortable because of my race or ethnicity. There were times where the way I was treated was because of the color of my skin," Rajakone says. "I grew up in Central Pennsylvania, the heart of Trump country."
Despite the increase in hateful rhetoric since the presidential election, Rajakone agrees with Lasania that Pittsburgh and the United States as a whole are far better off than other countries and are committed to addressing these persistent problems.
"My parents immigrated to this country from an area that was ravaged by civil war and political oppression," Rajakone says. "Whatever flaws there may be within our society, the great thing about America is people can raise their voice about things that matter to them."