6Affordable Housing

Pittsburgh is growing and, in many ways, improving. More people want to live here now than in past decades. Thus, developers want to give them newer, higher-priced places to live, and bigger and more expensive stores and restaurants. But that hasn't come without a price, especially in the city's eastern neighborhoods. In the past two years, we have focused on covering affordable-housing issues, from the evictions in East Liberty's Penn Plaza Apartments to the migration of African-American residents from the city to communities like Wilkinsburg and Penn Hills. But this isn't a new problem: City Paper has been covering development and housing issues for more than two decades — from Downtown's ill-fated Fifth-Forbes project to the loss of small artists' communities that had sprung up in housing developments across Squirrel Hill.
---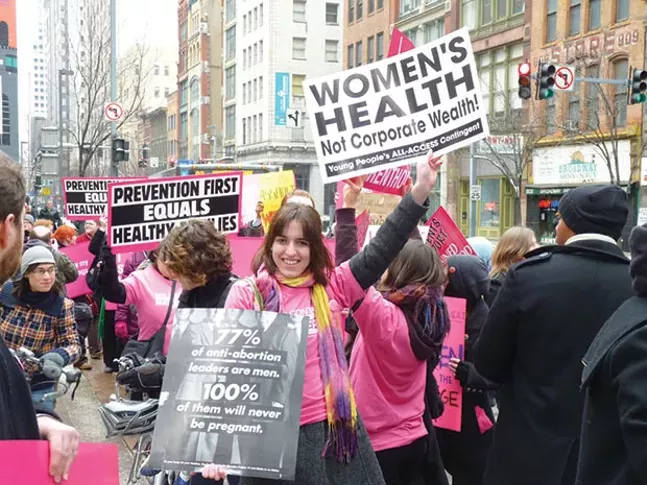 7Women's Reproductive Health

While Trump has said he will appoint Supreme Court nominees who would work to overturn Roe v. Wade, CP has long covered issues regarding control over a woman's body, such as attempted legislation to force a woman who wants an abortion to have an ultrasound. We also covered the enactment of legislation that forced the closure of several clinics across the state, and a city ordinance that designated a buffer zone to separate women going into a clinic from protesters.


---
8
Violence Against Women
Donald Trump is a misogynist, and his behavior and comments about forcing himself on women is a major issue, but these kinds of behaviors aren't new. There seemed to be a time in the late 2000s when the Pittsburgh Police Department promoted several officers despite those men having a history of domestic violence. We have also examined the issue of sexual assault against women in the military, and looked at laws seeking to criminalize revenge porn.
---
9Voter Suppression

With all the talk about rigged elections, it's hard to imagine what sort of laws could be coming down the pike that will attempt to keep voters from the polls. We covered voter-suppression efforts, like voter-ID laws in Pennsylvania. We're also the state that had Mike Turzai, the speaker of the state house, brag that such laws were going to guarantee Mitt Romney's election victory in 2012.


---
10Workers' Rights

City Paper has long covered the efforts by workers to better their working condition through unionization or protest. From unionization efforts at large employers like UPMC and Rivers Casino to the "Fight for $15," these movements have been a part of our coverage from our earliest days, when we reported on the strike at the Pittsburgh Press and the Pittsburgh Post-Gazette.


---