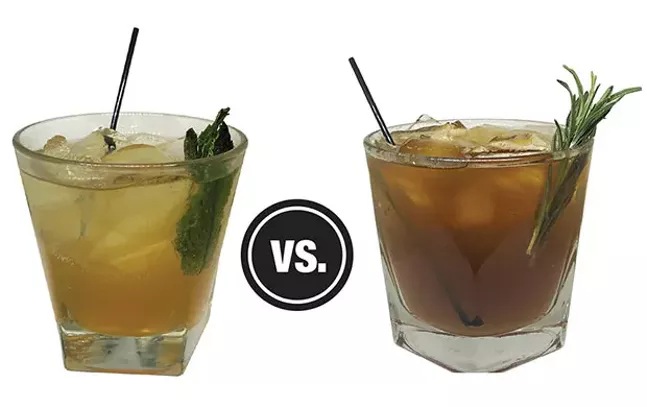 Each week, we order two of the same cocktail for a friendly head-to-head battle. Go to the bar, taste both drinks and tell us what you like about each by tagging @pghcitypaper on Twitter or Instagram and using #CPBoozeBattles. If you want to be a part of Booze Battles, send an email to food-and-beverage writer Celine Roberts, at celine@pghcitypaper.com.
Drink: Bitter Fizz Mild

Ingredients: Amaro Montenegro, Fever Tree bitter-lemon tonic, mint
Our take: The vanilla and orange-peel notes in Montenegro blend with bitter-lemon tonic to produce an incredibly refreshing and slightly tart mix that cuts through winter's malaise. Mint cools the drink and adds a fragrance that pairs well with the notes of orange.


Drink: Bitter Fizz Very Bitter

Ingredients: Fernet Branca, Fever Tree bitter-lemon tonic, rosemary
Our take: The carbonation of the lemon tonic helps to lighten the texture of the Fernet Branca and takes the edge off its intensely herbal flavors of peppermint and saffron. The rosemary sprig releases oils on the surface that complement the peppermint.