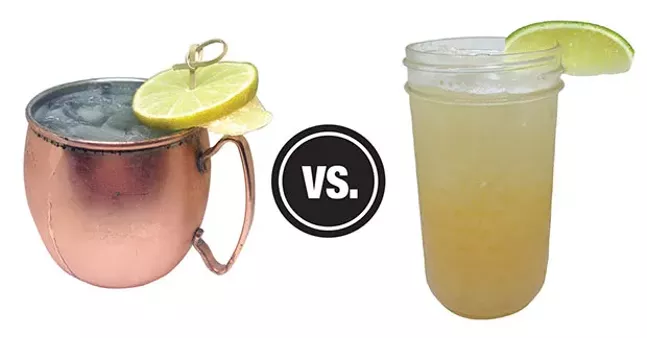 Each week, we order the same cocktail at two different bars for a friendly head-to-head battle. Go to the bars, taste both drinks and tell us what you like about each by tagging @pghcitypaper on Twitter or Instagram and using #CPBoozeBattles. If you want to be a part of Booze Battles, send an email to food-and-beverage writer Celine Roberts, at celine@pghcitypaper.com.
Union Standard
524 William Penn Place, Downtown

Drink
: Union Mule
Ingredients: Boyd & Blair vodka, Canton ginger liqueur, lime, ginger beer
Our take: This cocktail is a bright refresher, heavy on the lime and ginger. Punchy and tart, it's a concoction that could create some internal heat on a brisk day.
Scratch Food & Beverage
1720 Lowrie St., Troy Hill
Drink
: Autumn Mule
Ingredients: Stateside vodka, cider, lime
Our take: The balanced cocktail delivers all the satisfaction of a mule, while adding light effervescence from the cider. Vodka provides a clean base for the citrus to shine without overwhelming the flavors of the cider.