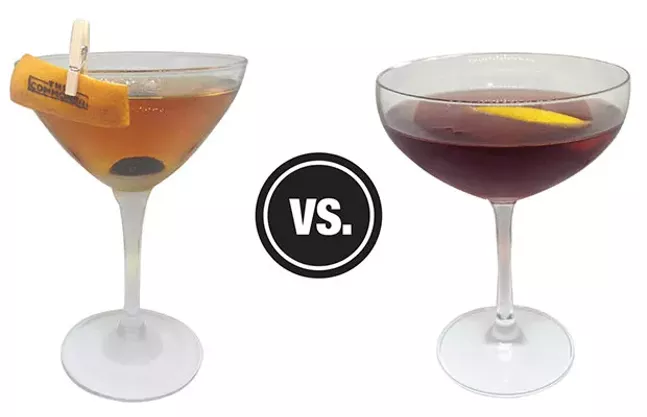 Each week, we order the same cocktail at two different bars for a friendly head-to-head battle. Go to the bars, taste both drinks and tell us what you like about each by tagging @pghcitypaper on Twitter or Instagram and using #CPBoozeBattles. If you want to be part of Booze Battles, send an email to food-and-beverage writer Celine Roberts, at celine@pghcitypaper.com.
The Commoner
458 Strawberry Way, Downtown
Drink: Oaked Martinez

Ingredients: Barrel-finished Bluecoat gin, sweet vermouth, orange bitters, maraschino liqueur
Our take: With some other bright, dry notes rounded out by its barrel finishing, this gin takes on a smooth and slightly more herbal flavor. Orange bitters echo the citrus notes in the gin, with the sweet vermouth and maraschino adding just a touch of sweetness for a perfectly balanced cocktail.
Vs.

Spoon
134 S. Highland Ave., East Liberty
Drink: Martinez

Ingredients: Wigle ginever, sweet vermouth, maraschino liqueur
Our take: This punchy, juniper-forward ginever is rich in botanicals. Sweet vermouth and maraschino liqueur add minerality and a dose of sweetness. Notes of stone fruit and light citrus contribute tartness that lingers on the back of the cocktail.