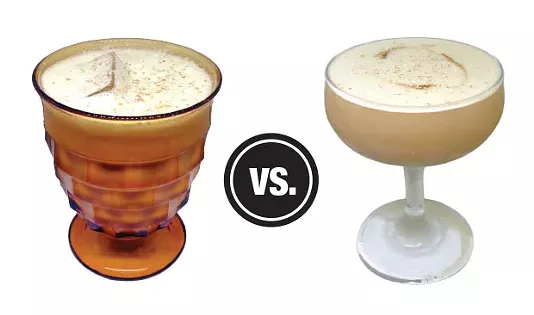 Each week, we order the same cocktail at two different bars for a friendly head-to-head battle. Go to the bars, taste both drinks and tell us what you like about each by tagging @pghcitypaper on Twitter or Instagram and using #CPBoozeBattles. If you want to be a part of Booze Battles, send an email to food-and-beverage writer Celine Roberts, at celine@pghcitypaper.com.
DiAnoia's Eatery
2549 Penn Ave., Strip District
Drink: Flipping the Bird
Ingredients: Stonewall rum, Branca Menta amaro, cream, egg, nutmeg
Our take: The warm aroma of nutmeg is the first note in this frothy eggnog-like drink. Mint follows closely on its heels, while the honeyed taste of rum provides backbone. Nutmeg returns on the finish, emerging from the silky texture of the foam.
Vs.
Tender Bar + Kitchen
4300 Butler St., Lawrenceville
Drink: The Sheriff of Pitkin County
Ingredients: Zacapa Centenario 23 rum, black-strap rum, allspice dram, Branca Menta, grapefruit, egg white, nutmeg, coffee bitters
Our take: This cocktail strikes both comforting and refreshing notes in the midst of chilly temperatures. The acidity of the grapefruit and the mint notes of the Branca Menta brighten the flavor profile of the egg white and nutmeg. Coffee bitters add depth and a trace of earthiness to this creamy wisp of a drink.