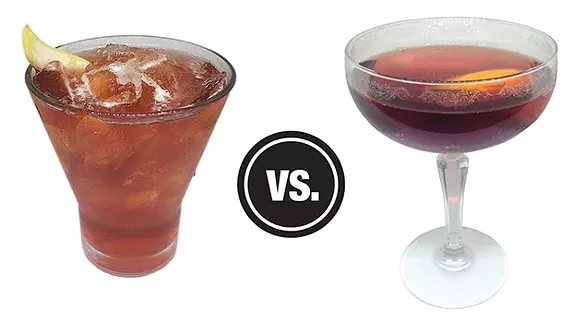 Each week, we order the same cocktail at two different bars for a friendly head-to-head battle. Go to the bars, taste both drinks and tell us what you like about each by tagging @pghcitypaper on Twitter or Instagram and using #CPBoozeBattles. If you want to be a part of Booze Battles, send an email to food-and-beverage writer Celine Roberts, at celine@pghcitypaper.com.
Ten Penny
960 Penn Ave., Downtown
Drink: Pittsburgh Boulevardier

Ingredients: Wild Turkey 101 bourbon, sweet vermouth, Campari
Our take: Campari is the first note of this classic cocktail. Behind the bitterness is a subtle balance of bourbon and vermouth, making for a strongly booze-forward, one-and-done drink. A hint of smokiness completes the flavor profile.
Vs.
Winghart's Burger & Whiskey Bar
5 Market Square, Downtown
Drink: Boulevardier

Ingredients: Jim Beam rye, sweet vermouth, Campari
Our take: Strong notes of citrus and bitterness are immediately apparent in this cocktail. The ebb and flow between bitterness and sweetness from the Campari and whiskey keep the drink interesting to sip. Caramel and spice notes from the rye serve to highlight and balance.