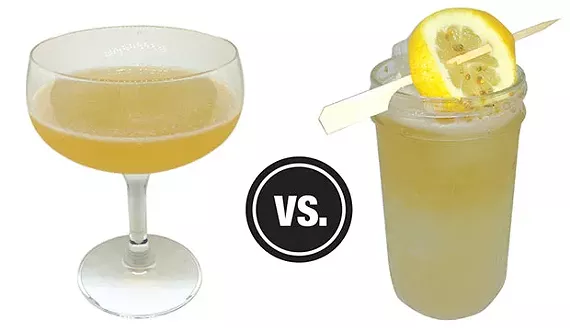 Each week, we order the same cocktail at two different bars for a friendly head-to-head battle. Go to the bars, taste both drinks and tell us what you like about each by tagging @pghcitypaper on Twitter or Instagram and using #CPBoozeBattles. If you want to be a part of Booze Battles, send an email to food-and-beverage writer Celine Roberts, at celine@pghcitypaper.com.
Stagioni
2104 E. Carson St., South Side
Drink: Sage Bee

Ingredients: Blue Coat gin, sage-honey simple syrup, lemon
Our take: Every ingredient in this cocktail shines in perfect detail on the palate. The sweetness of the honey and the herbaceous, slightly smoky smell of sage are finished with notes of juniper in the gin. Tart citrus flavors highlight the drink.
Vs.

Pork & Beans
136 Sixth St., Downtown
Drink: Bumble Fuzz

Ingredients: Beefeater gin, smoked honey, ginger, lemon, orange bitters, hefeweizen, bee pollen
Our take: Bright floral notes are the highlight of this drink. The nose (with the help of the bee pollen) is blooming honeysuckle bushes on a hot day. Citrus adds a pucker to the sweetness of the honey and gin, followed by light smokiness to balance it.