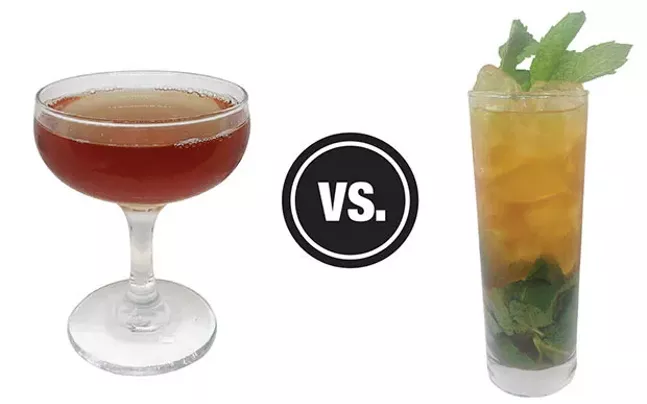 Each week, we order the same cocktail at two different bars for a friendly head-to-head battle. Go to the bars, taste both drinks and tell us what you like about each by tagging @pghcitypaper on Twitter or Instagram and using #CPBoozeBattles. If you want to be a part of Booze Battles, send an email to food-and-beverage writer Celine Roberts, at celine@pghcitypaper.com.
Smallman Galley
54 21st St., Strip District
Drink: This Magic Moment

Ingredients: Plantation pineapple rum, Smith & Cross rum, Fernet Branca, mint, macadamia nut
Our take: This cocktail tasted like a caramel-coated thin mint, with just a hint of tropical fruit and no sugary sweetness. The Fernet Branca warms the palate with mellow herbal notes on the front and back of the drink. A touch of sweetness lingers at the end.
Vs.

Butcher and the Rye
212 Sixth St., Downtown
Drink: Italian Holiday

Ingredients: Branca Menta, Cruzan light aged rum, sugar cane, lime, mint
Our take: Bracingly minty and sweet, this rum cocktail takes its cues from candied mint. The rum has slightly woody flavors and a definite presence in the drink's profile, even though it takes second place to the Branca.