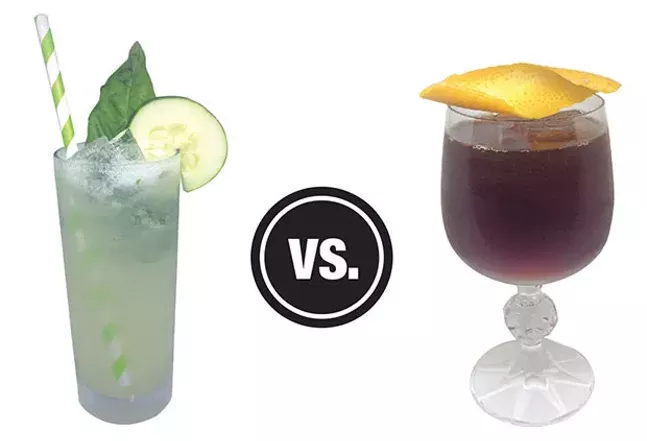 Each week, we order the same cocktail at two different bars for a friendly head-to-head battle. Go to the bars, taste both drinks and tell us what you like about each by tagging @pghcitypaper on Twitter or Instagram and using #CPBoozeBattles. If you want to be a part of Booze Battles, send an email to food-and-beverage writer Celine Roberts, at celine@pghcitypaper.com.
Maggie's Farm Rum Distillery
3212A Smallman St., Strip District
Drink: Eric Stratton

Ingredients: Maggie's Farm white rum, fresh-squeezed lemon juice, basil, cucumber syrup, soda and cucumber garnish
Our take: For a daytime refresher, sipping this rum cocktail is like a stroll through a verdant garden. Cucumber and basil provide heavy vegetal notes as well as heady aromatics. Lemon juice brings a bright lift to the mix, complemented by the bubbles from the soda.
Vs.

DiAnoia's Eatery
2549 Penn Ave., Strip District
Drink: Smallman Jabroni

Ingredients: Maggie's Farm La Revuelta Rum, Campari, Punt e Mes vermouth, cold-brew coffee, orange peel
Our take: This rum cocktail hits all the after-dinner notes squarely. Campari helps to soothe the stomach, while coffee gives you a second wind for the rest of the night. A good balance of the vermouth, rum and coffee creates strong cocoa notes, with a touch of bitterness that lingers on the palate.