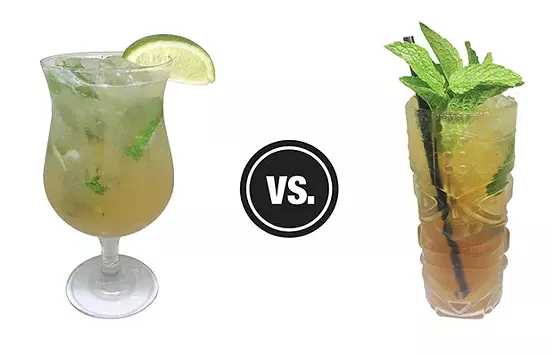 Each week, we order the same cocktail at two different bars for a friendly head-to-head battle. Go to the bars, taste both drinks and tell us what you like about each by tagging @pghcitypaper on Twitter or Instagram and using #CPBoozeBattles. If you want to be a part of Booze Battles, send an email to food-and-beverage writer Celine Roberts, at celine@pghcitypaper.com.
Kaya
2000 Smallman St., Strip District
Drink: Mojito

Ingredients: Don Q silver rum, mint, lime, demerara sugar, soda
Our take: This version of a mojito played up the sweeter, softer aspects of mint, while also making lime the star of the show. The white rum smoothly faded into the background, showing up for one light kick at the finish.
Vs.

Pirata
274 Forbes Ave., Downtown
Drink: Mojito Royale

Ingredients: Don Q añejo rum, lime, mint, mint-infused brown-sugar syrup, sparkling wine float
Our take: This drink harnessed the carbonation of the sparkling wine to provide a fruity, feather-light balance to the intensity of mint and lime. The nose held notes of peach and mint, and the sips were pleasantly, but not overly, sweet.