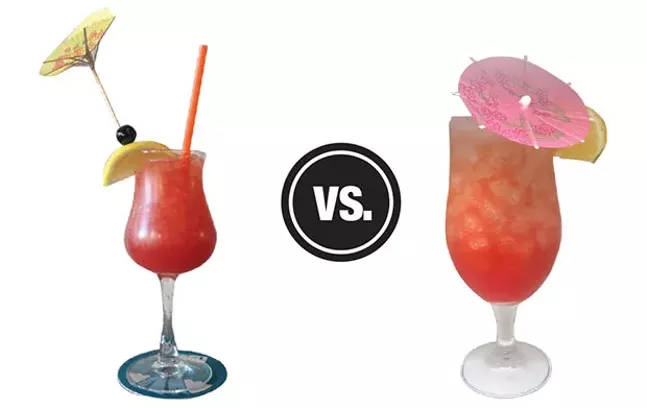 Each week, we order the same cocktail at two different bars for a friendly head-to-head battle. Go to the bars, taste both drinks and tell us what you like about each by tagging @pghcitypaper on Twitter or Instagram and using #CPBoozeBattles. If you want to be a part of Booze Battles, send an email to food-and-beverage writer Celine Roberts, at celine@pghcitypaper.com.
Drink: Hurricane
Ingredients: Jamaican rum, lemon, fassionola, lemon slice, cherry and tiny umbrella
Our take: Toasty caramel notes from the rum deepen the flavor profile of this drink, while red fruits, like passionfruit, from the fassionola lighten and broaden the scope of the drink. Citrus gives a final lift to help balance the cocktail.



Drink: Nor'Easter
Ingredients: Maggie's Farm White Rum, Maggie's Farm La Revuelta, lemon, orange, cranberry juice, Red Ribbon cherry and almond sodas, orange slice and tiny umbrella
Our take: For a drink with a lot of elements, this cocktail tastes light and balanced, like a cherry cola on a hot day, while delivering a touch of sweet almond and citrus to the rum. Bright pink, with tons of crushed ice, its presentation appeals to a fun sensibility.