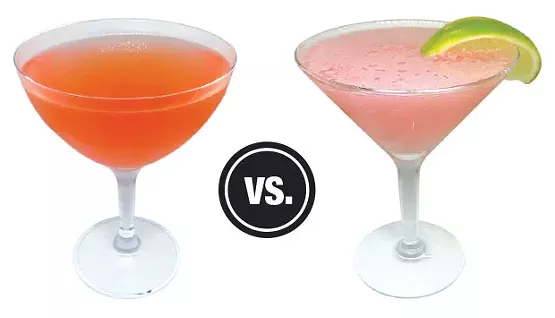 Each week, we order the same cocktail at two different bars for a friendly head-to-head battle. Go to the bars, taste both drinks and tell us what you like about each by tagging @pghcitypaper on Twitter or Instagram and using #CPBoozeBattles. If you want to be a part of Booze Battles, send an email to food-and-beverage writer Celine Roberts, at celine@pghcitypaper.com.
Girasole
733 Walnut St., Shadyside
Drink: Girasole Cosmopolitan

Ingredients: Vodka, triple sec, lime, Aperol, lemon twist
Our take: The Aperol gave this vodka-based classic a bitter kick and pleasant rosy hue. The lemon twist brought a slightly sour, citrus note that played nicely with the Aperol, leaving the sweet first sip with a bitter finish.
Vs.

Bites & Brews
5750 Ellsworth Ave., Shadyside
Drink: Pomegranate Cosmo

Ingredients: Pomegranate vodka, triple sec, sours, cranberry juice, lime wedge
Our take: This cocktail has a lovely tart lift throughout, starting with the pomegranate vodka and ending with lime notes. Smooth, palatable and without heat, this is the way a vodka cocktail should be. Squeeze the lime in — you won't regret it.