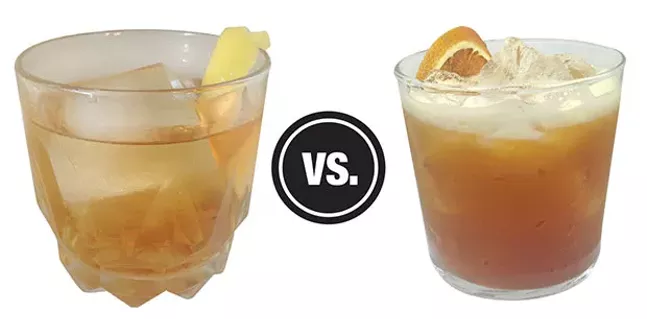 Each week, we order the same cocktail at two different bars for a friendly head-to-head battle. Go to the bars, taste both drinks and tell us what you like about each by tagging @pghcitypaper on Twitter or Instagram and using #CPBoozeBattles. If you want to be a part of Booze Battles, send an email to food-and-beverage writer Celine Roberts, at celine@pghcitypaper.com.
Drink: Godfather
Ingredients: Famous Grouse scotch, Lazzaroni amaretto, lemon
Our take: The sweeter notes of scotch are highlighted by the floral components of the lemon and nutty, warm flavors of the amaretto. Citrus lingers on the nose of the cocktail, while the apricot notes of the amaretto provide a platform for the scotch to mellow.
Drink: Fernet, scotch, apple cider
Ingredients: Fernet Branca, scotch, apple cider
Our take: Bitter, medicinal and bracing mint are the first flavors that surface in this well-balanced scotch cocktail. Dry cider adds sweetness and depth to the salinity of the scotch, while the dehydrated orange garnish adds visual appeal.