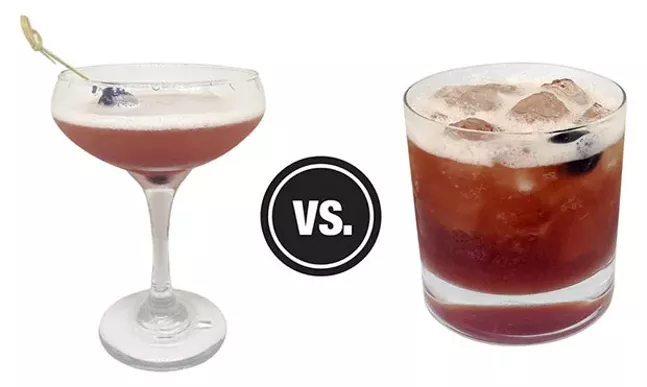 Each week, we order the same cocktail at two different bars for a friendly head-to-head battle. Go to the bars, taste both drinks and tell us what you like about each by tagging @pghcitypaper on Twitter or Instagram and using #CPBoozeBattles. If you want to be a part of Booze Battles, send an email to food-and-beverage writer Celine Roberts, at celine@pghcitypaper.com.
Butterjoint
214 N. Craig St., Oakland
Drink: Blood and Sand

Ingredients: Dewar's scotch, sweet vermouth, Cherry Heering, orange
Our take: The Cherry Heering mellows out the bite of the scotch, allowing its caramel and brown-butter notes to shine through. A hint of smoke and a luxardo cherry to enjoy at the end add some depth and texture.
Soba
5847 Ellsworth Ave., Shadyside
Drink: Blood and Sand

Ingredients: Famous Grouse scotch, Cherry Heering, Dolin Rouge vermouth, cherry
Our take: Because it's served on the rocks, this is the lighter, friendlier version of the original and sometimes detested Blood and Sand. The Famous Grouse is a subtle choice for the scotch, and the overall effect is pleasant drink with just a little bit of smoke to it. The ever-present luxardo cherry sweetens the pot.