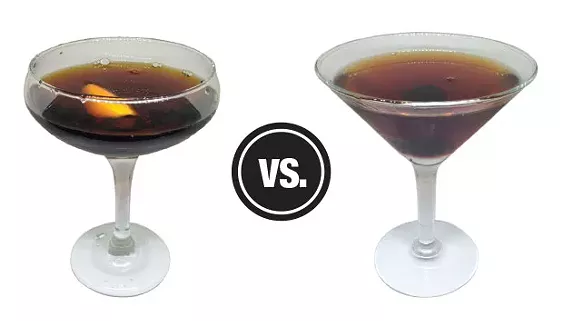 Each week, we order the same cocktail at two different bars for a friendly head-to-head battle. Go to the bars, taste them both and tell us what you like about each by tagging @pghcitypaper on Twitter or Instagram and using #CPBoozeBattles. If you want to be a part of Booze Battles, send an email to food-and-beverage writer Celine Roberts, at celine@pghcitypaper.com.
The Drink: Black Manhattan

Butterjoint
214 N. Craig St., Oakland
Drink: Black Manhattan
Ingredients: George Dickel rye, Amaro Averna, black walnut bitters
Our take: This cocktail blends the rich flavors of caramel from the Averna for a sweet, while also slightly bitter and salty, delight. Rye subs for bourbon as a more subtle base for the drink and adds some medicinal notes.
Vs.

Dish Osteria
128 S. 17th St., South Side
Drink: Black Manhattan
Ingredients: Buffalo Trace bourbon, Amaro Averna, Angostura Bitters
Our take: The notes of slight bitterness from the Averna balance nicely with the sweetness of the bourbon. In combination with the bitters, the result is vaguely nutty. This cocktail is smooth and warming all the way down.