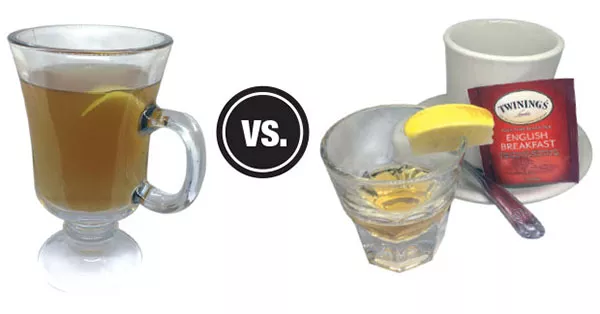 Each week, we order the same cocktail at two different bars for a friendly head-to-head battle. Go to the bars, taste them both and tell us what you like about each by tagging @pghcitypaper on Twitter or Instagram and using #CPBoozeBattles. If you want to be a part of Booze Battles, send an email to food-and-beverage writer Celine Roberts, at celine@pghcitypaper.com.
The Drink: Hot Toddy
Braddock's American Brasserie
107 Sixth St., Downtown
Ingredients: Templeton rye whiskey, hot water, honey, lemon
Our take: A heavy dose of honey makes this hot toddy a throat-soother. The spiciness of the Templeton rye helps balance some of the sweetness; the woody and caramel notes give the cocktail depth. The astringency of the lemon gave it just the kick my sinuses needed.
Vs.
Piper's Pub
1828 E. Carson St., South Side
Ingredients: Jameson Irish whiskey, English breakfast tea, hot water, lemon
Our take: The do-it-yourself nature of this hot toddy made Piper's feel just like home in the most comfortable way. A selection of tea was provided including Lipton, English breakfast and chamomile, along with a pot full of piping hot water. The lack of sweetener (which I likely could have asked for) was welcome and allowed me to taste the flavors of the whiskey unadulterated.