Pittsburgh is still a beer-and-a-shot kind of town. While the past decade has seen the cocktail lounge come into vogue, the neighborhood dive remains a busy community gathering place, steadily pouring the same beers to the same neighborhood folks. Folks who show up to each other's Christmas parties and summer barbeques. If Pittsburgh, as a city, already feels like an episode of Cheers, dives here are that experience magnified. If you aren't a regular at the local watering hole, it can take some time to find your groove. Each neighborhood and history brings its unique vibe. The CP crew set off on a Wednesday morning to visit some of the most recommended and iconic joints in the city.
10 a.m.

Jack's Bar
1117 E. Carson St., South Side
Hours: 7 a.m.-2 a.m. Mon.-Sat.; 9 a.m.-2 a.m. Sun.
"Party on a budget 365 days a year!" exclaims Jack's website, which had its last blog update in 2014. Pink on black with blocky lettering, it looks like it was designed in the mid-'90s. The same can be said for the bar. The joint is dated, although I prefer "timeless." Bonnie the bartender laughs a laugh clouded with the smoke of many late nights when she says it's been open for "about a 100 years." I arrive two minutes late to meet my editor, Charlie Deitch, and art director, Lisa Cunningham. He's already drinking; she's already being hit on by a shameless patron. T-shirts, thongs and boy-shorts emblazoned with the phrase "Drink every afternoon" are tacked above the bar and slightly obscured by the cigarette smoke that's wafting toward the ceiling. Bar shelves are lined with everything from the garishly decorated bottom-shelf liquors, like buttershots, to Tito's Vodka. Two young women wearing hospital scrubs, perhaps coming off a midnight shift, laugh together at the end of the bar, but everyone else is a white dude older than 50. The man hitting on Lisa turns his attentions toward me, offering to buy me a shot. As my father once told me, "With men, any attention is good attention." I'm wary but accept anyway. I opt for a jello shot, because it is, after all, 10 a.m. on a Wednesday; the jello makes it almost like breakfast.
When I ask if they make any virgin drinks, Bonnie gives me the long, tired look you give someone whom you consider endearing, but also very stupid. She deadpans: "Coke. Water. You could have a Bloody Mary without the vodka?"
Cheapest Drinks
8-oz. domestic drafts $1.60; $1.50 jello shots or the bargain price of two for $3. Not done yet? Grab a 16-oz. can of Old Milwaukee, Natty Lite or PBR to go — six packs are $7.15.
Food
Bar eats include chili dogs, hamburgers, fish sandwiches and pepper provolone sticks, among a few other offerings. Ripping into his chili dog, Charlie stops short, saying, "There's a piece of food [on the bar] that wasn't on anything I ordered."
Special features
A Golden Tee machine to play a couple holes and a digital jukebox that Charlie showed one of the drunker patrons how to use.
Total Damage: $8.75 for three beers, a chili dog and a Coke.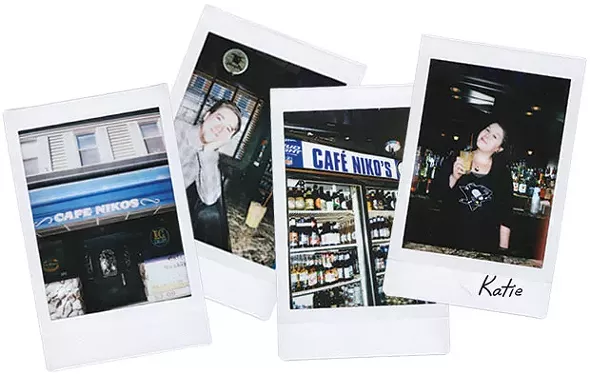 11 a.m.

Cafe Nikos
212 Shiloh St., Mount Washington
Hours: 10 a.m.-2 a.m. daily
Katie the bartender says she's been working here for a year-and-a-half, but most every other bartender has been here for 10 to 20 years. Nikos definitely feels like the kind of place to settle in for a while. Beer is served in heavy-bottomed glass mugs; think barware from Moe's Tavern on The Simpsons. At this time of day, the bar holds exclusively old-timers drinking the free coffee that's provided every morning. "We pick up in the evening," Katie says. "It's a younger crowd then, but it's everyone's favorite neighborhood bar." She introduces us to some of the regulars. When I ask John L. how long he's been coming to this bar, he says he doesn't remember. But he knows he's been living in the neighborhood for 80 years. "Has it changed a lot?" we ask. "Hell yeah!" he says. "We had a junkman who used to ride horses through to pick the junk up back during the second World War. All the roads are different. We used to have street-car tracks out there. The beer don't change." He suggests we walk along Grandview Avenue, and says he used to walk that street to go to school. "No snow days. No school buses. And when the teacher said, 'Shut up,' you shut up," he says. On his way out the door, John L. stops at my stool and leans in conspiratorially. "She's a hula-hoop champion, ya know," he whispers, pointing to the bartender with his chin, clearly taking pride in her accomplishments. And then, he's out into the sunshine.
Cheapest drinks
$3.50 well drinks or 16-oz. drafts of Bud Light, Miller High Life or Yuengling for $1.75. $5 Long Island Ice Teas after 5 p.m. on Wednesdays.
Food
Lots of fried food, wings, burgers, hoagies and wraps. Katie says there's a spinning griller for gyros coming in soon.
Special features
In the back room, Nikos has a pool table and darts, as well as the ever-more-elusive cigarette machine.
Total Damage: $7 for two beers and a screwdriver.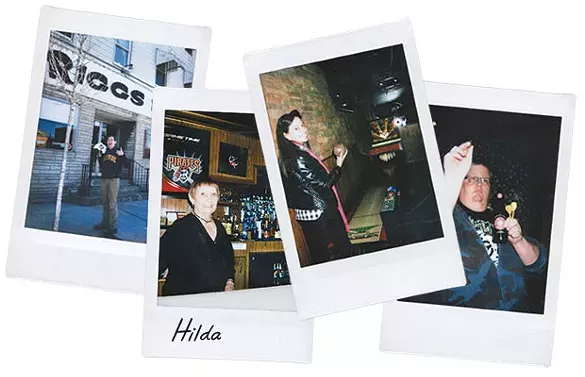 Noon
Riggs Lounge & Restaurant
1208 Brighton Road, North Side
Hours: 10 a.m.-2 a.m. Mon.-Sat.; closed Sunday
Riggs opened its doors around 1918. Today, it's presided over by Marshall Riggs, the third generation to run it. Riggs tells us about the family history, remembering his 10 aunts who ran the place with panache, and his grandmother, who cooked for the Pittsburgh sports stars of the day. "We've been around a long time," he says, pointing to photos dating to 1944. "My cousin Chuckie just sent me from California older pictures of this place. My wife is looking to get them framed." He's affectionate with his cousin, the bartender Hilda, a beautiful 83-year-old German immigrant who has tended bar there most of her life. Riggs' grandmother brought Hilda over when the war broke out in Germany. Riggs says he wants his establishment to be welcoming. "It's really laid-back. It's straight, gay, black, white; you could send your mother in here at 1 in the morning," he says. "I would want people to know, yeah the outside of the building is scary, but give it a try."
Cheapest Drinks
$4 well drinks with very generous pours; $3.50 domestic drafts. An impressive collection of craft beers run $6 a pop.
Food
Riggs is working on renovating the back restaurant to keep its original charm. Stepping through the doors is like being put into a time capsule in the '50s with much of the decor perfectly preserved. Food is served on occasional Saturdays.
Special features
The room in the back of the bar is great for game play. A dart board kept us busy, but the real gem is a bowling game from 1957 that accommodates four players for 50 cents per game. Pins lift into the machine and are reset automatically.
Total Damage: $17 for two well drinks and four beers.