41. Movie night(s)
Pittsburgh's film scene goes far beyond Batman and a certain grumpy weatherman named Phil. The Steel City has a robust variety of annual film festivals ranging in size and topic. Programming that is reliably inventive, provocative and diverse. Mark calendars for these highlights: Pittsburgh International Lesbian and Gay Film Festival, Silk Screen Asian American Film Festival, Reelabilities (films that promote stories of individuals with disabilities), JFilm (Jewish-themed films) — and keep an eye out for any new ones debuting in the near future. There is sure to be more soon.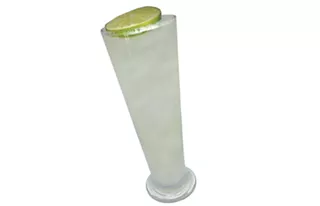 42. Talk a walk on the South Side
Drink hard. But do it right. Settle into one of dozens of bars on Carson, drink a plenty, dance with friends, argue about sports. Repeat. Then do it again at: Dee's Cafe (1314 E. Carson St.), Carson City Saloon (1401 E. Carson St.) and Smiling Moose (1306 E. Carson St.). For a more refined evening experience, enjoy cocktails at Tres Rios (1719 E. Carson St.) or whiskey and a burger at Winghart's (1505 E. Carson St.). Everything is bunched together in a few blocks. Don't drive while intoxicated, please.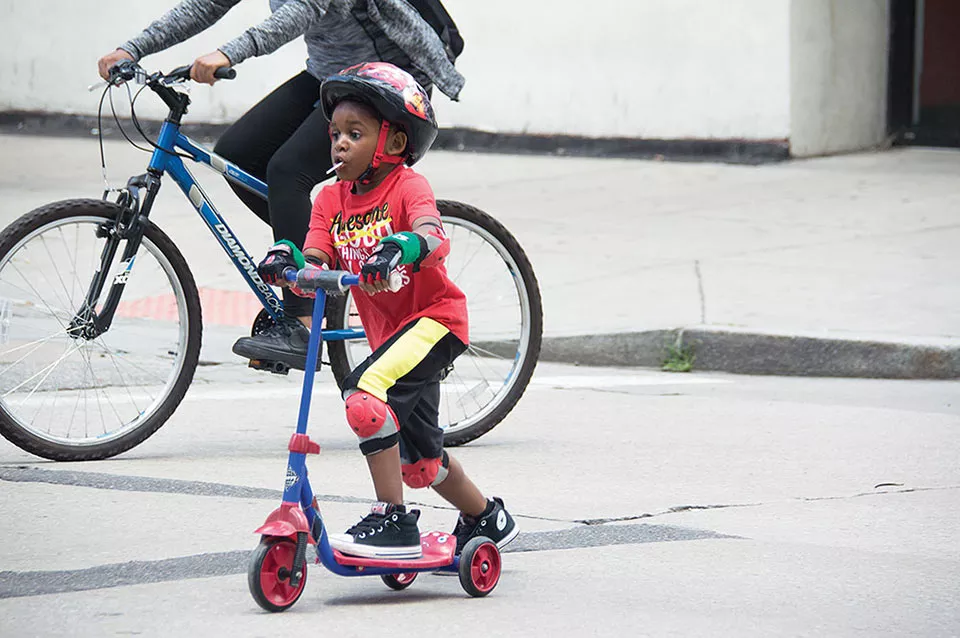 43. Hit the streets
Doing yoga is pretty cool. Doing yoga on Penn Avenue in the heart of the Strip District? Even cooler. But yoga is just one of the many things to do during Open Streets. Ride a bike, run or skateboard down city streets that would usually be filled with bustling traffic, then stop and check out a local business while you're on the move. A few times each summer, different areas play host to Open Streets, including: Carson, Forbes, Penn and Butler.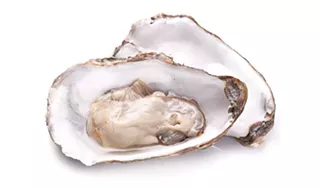 44. Drink like great grandad's dad
One Pittsburgh bar and restaurant has remained for nearly 150 years. The Original Oyster House, located in Market Square, serves seafood and ales, and has played host to everyone from politicians to athletes. Featured in several movies filmed in the area, this staple is a generational favorite for eating and drinking. Oh, it's also a certified historic landmark. So, uh, what are you waiting on?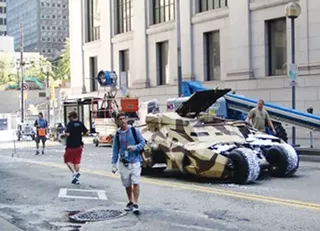 45. Tour Hollywood East(ish)
More than two decades have passed since Jean-Claude Van Damme valiantly saved Civic Arena (and Pittsburgh at large) in Sudden Death. While that's a tough one to top, our city has since played host to plenty of top-shelf Hollywood films. No trip to Pittsburgh is complete without a mini-tour of iconic settings in "Hollywood East" — a name used by almost nobody.
Let's start with the big guns. The second and third installments of Christopher Nolan's Dark Knight franchise showcase memorable Pittsburgh scenery, including some unholy treatment of Heinz Field, plenty of yellow bridges and a geography-defying chase on Smithfield St. (Uh, how many Macy's are there in Gotham?)
Kennywood starred in Adventureland. So, if you're feeling nostalgic for late-1980s Pittsburgh, head to the park, ride some rides and blast "Rock Me Amadeus." If you're into Alanis Morrissette and/or Jay and Silent Bob, take trips to Sts. Peter and Paul Church in East Liberty or the Steel Building (Mooby Corp.) and relive favorite scenes from Dogma. And while we wouldn't recommend going full-Emma Watson out of the sunroof a la Perks of Being a Wallflower (seatbelts, people!), driving through the Fort Pitt tunnel is the only way to stylishly arrive in this Steel City.
Finally, check out the Pittsburgh Airport of She's Out of My League-fame on your way atta 'tahn. Neither the most famous setting nor best movie shot here, at least it's convenient.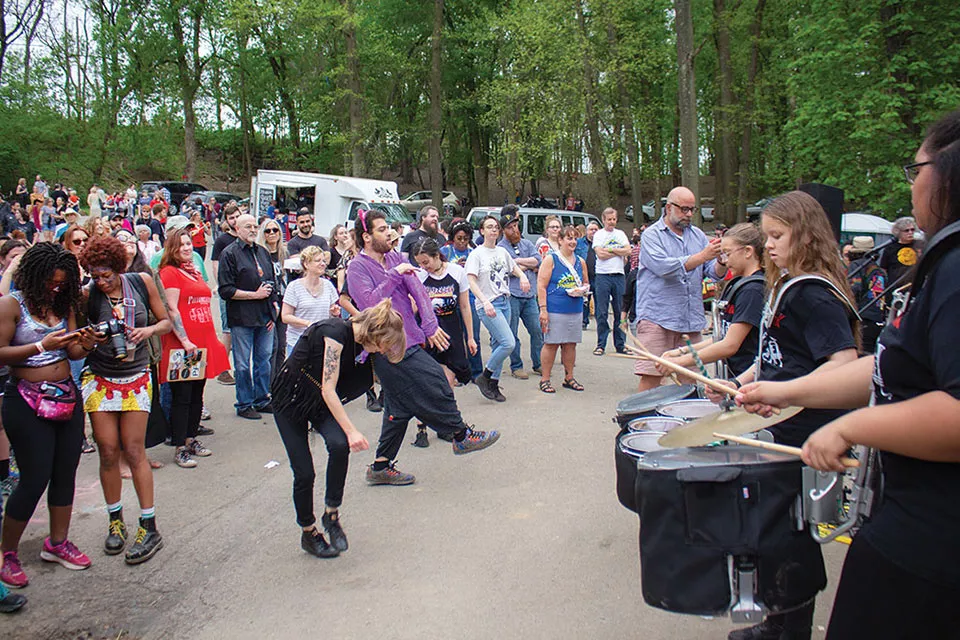 46. Go see music ... fo' free!
Pittsburgh has a plethora of free music festivals. Each offers an opportunity to explore a new part of town. See over 100 bands perform throughout the North Side for Deutschtown Music Festival or wander the music-filled streets of Millvale for Millvale Music Festival. Pittonkatonk, a May Day barbeque, is free and super family-friendly. Still, feel free to contribute spare dollars in the name of a year-round music education program and a lot of amazing cultural programming.



47. Walk famous landmarks
Hey, Pittsburgh has earned its "City of Bridges" moniker. There are 446 in these parts, so eat your heart out, Venice. And though most of our bridges often seem like parking lots for vehicles, many have been adjusted to include pedestrian-friendly walkways. Everybody has a favorite bridge, whether it is Roberto Clemente's (Sixth St.) or Andy Warhol's (Seventh St.). But the fact that there's a bridge for just about everybody you know is something Pittsburghers can hold over Clevelanders. OK, it's something else we can hold over those people.
48. Get (pop) cultured
This isn't your parents' symphony. This is a larger-than-life experience that pairs blockbuster films with live performances of blockbuster music. Imagine watching Back to the Future on a big screen in Downtown's historic Heinz Hall while the Pittsburgh Symphony performs the unforgettable score, or the delightful squeals from a roomful of kids dressed in Harry Potter cosplay for an evening of tunes from Hogwarts. Yes, the symphony still has standard concerts for its easy-listening regulars, but recent events targeting younger folks are worth a ticket.


49. Light 'em up
Fireworks are the only thing Pittsburghers love more than pierogies, football and giant rubber ducks. Displays are year-round — to the point that it actually seems like you can't swing an old Terry Bradshaw jersey without finding fireworks. They come after a Pirate hits a home run at PNC Park, from Point State Park on the Fourth of July and even when the New Year arrives as part of First Night festivities. They're everywhere, sort of like mosquitoes and municipality governments. Only, everybody loves fireworks.
50. Be in Burgettstown
Driving 25 miles from Downtown is worth it if at the end of the ride a great concert awaits. KeyBank Pavilion in Burgettstown is the region's go-to spot for mainstream musical acts. In the coming months alone, this amphitheater will stage margarita parties (Jimmy Buffett), scary duos (Rob Zombie and Marilyn Manson), country honks (Miranda Lambert and Little Big Town), farewells (Lynyrd Skynyrd) and vocal wizardry (Pentatonix). Seriously, there is something for everybody. Make the trip.