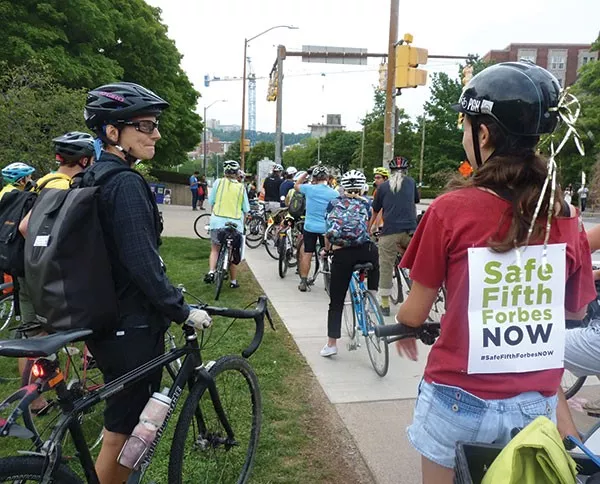 Yesterday, Pittsburgh City Council unanimously passed a Will of Council requesting that state officials grant the city more local control over matters of improving safety for pedestrians, cyclists, and individuals with limited mobility.
Councilor Erika Strassburger (D-Shadyside) introduced the resolution. She says certain PennDOT policies don't provide adequate solutions for Pittsburgh. She is asking Gov. Tom Wolf, the state legislature, and
PennDOT
to grant city government more control over policies that can create safer streets.
"Certain PennDOT policies do not provide a one-size-fits-all solution to our mobility challenges, especially in dense urban areas with complicated topography and varying types of streets like Pittsburgh," says Strassburger. "As the desire for car ownership decreases and the need for different types of mobility choices increases, municipalities are better equipped to respond to these changing needs of our residents."
Strassburger hopes the state government will grant Pittsburgh the authority to implement policies to reduce speeding, discourage dangerous driving, and protect vulnerable road users. Pittsburgh has a large share (about 11 percent) of commuters who walk to work and its
cyclist commuter numbers are growing
.
Pedestrian deaths in Pennsylvania
rose 41 percent from 2017-2018, among the sharpest increase of any state. Ninety pedestrians were killed on Pennsylvania roads from January 2018 through June 2018.
Strassburger also hopes state law will be altered so that the city can install parking-protected bike lanes, where cars park a few feet from the curb and act as barrier for
bike lanes
.
Some of the requests in the Will of Council mirror changes being sought by bike and pedestrian advocacy group
Bike Pittsburgh
. The group is calling for a change in PA Vehicle Code to allow construction of parking-protected bike lanes on state-owned roads (which are most major thoroughfares in Pittsburgh) and a law that would allow Pittsburgh and other municipal police departments to use speed guns to ticket drivers (Pennsylvania is the only state in the country that does not allow this).
On Tuesday, March 12th, Councilperson @erikastrassbrgr will introduce a Will of Council to Grant Pittsburgh More Control of its Streets. This Will of Council is Co-Sponsored by Councilman @CoreyOConnorPGH and Councilman @CoghillAnthony. Learn more:https://t.co/dscNN1UaF1 pic.twitter.com/OOCDLKixaW

— BikePGH (@BikePGH) March 11, 2019
The will was co-sponsored by councilors Corey O'Connor (D-Squirrel Hill), Anthony Coghill (D-Beechview), and Bruce Kraus (D-South Side). O'Connor said there are many design projects that could be implemented to "better protect our residents and connect" Pittsburgh's neighborhoods, but city officials are hamstrung by state preemption.
"So we are asking the state to expand our authority to make our streets safer," says O'Connor.
The mayor's office is also supportive of the resolution. Department of Mobility and Infrastructure director
Karina Ricks told Bike Pittsburgh
that "in order to implement the goals of the new department and build a safe and equitable mobility system, we need strong collaboration with our partners in the state and the ability to implement local controls."
Philadelphia City Council recently passed a similar resolution. Strassberger's office worked with Philadelphia councilor Mark Squilla's office in hopes that calls from both cities would bolster the case that cities should have more control over local road design and safety rules.