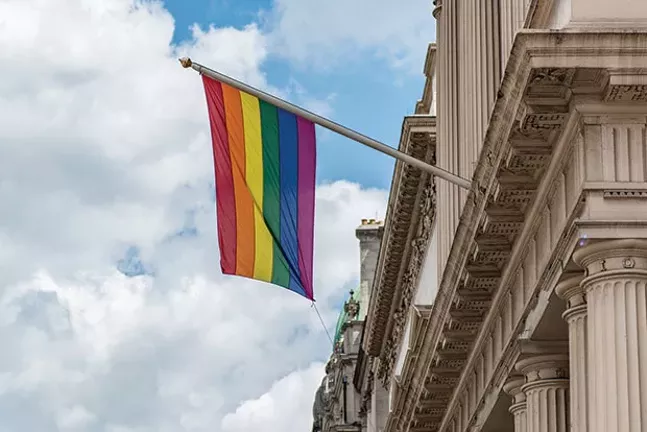 When Parker Howard was in middle school, growing up in Kentucky, he went to a summer church mission camp. It wasn't his first year at the camp, but that summer was different from the others.
"In the middle of the mission camp," says Howard, "they sat us down in this room and they were telling us that we were horrible people and that we were going to go to hell."
Sins discussed included everything from breaking the Ten Commandments to having an eating disorder. Howard's sin: being gay. That day he was outed by his youth pastor and subjected to a lecture about the "evils of homosexuality" in front of his peers.
"I did not go back after that," Howard says.
Years later, working as a coordinator at Pittsburgh's Gay Lesbian Community Center, Howard says what he experienced was a form of conversion therapy, a practice of psychological treatment or spiritual counseling meant to change a person's sexual orientation from homosexual or bisexual to heterosexual.
Last week, Pittsburgh City Council proposed a city-wide ban on conversion therapy, following in the footsteps of states like Vermont, California, New Jersey, Illinois and Oregon, as well as cities including Miami, Cincinnati and Seattle. The local ordinance would prohibit licensed mental-health practitioners from conducting conversion therapy on minors.
"With the incoming [presidential] administration, with the history Mike Pence has, we thought it was a good time to make a stand and to make certain on the books here in Pittsburgh it states loud and clear we're opposed to conversion therapy being performed on minors," says Council President Bruce Kraus, the city's first openly gay councilor. "They're saying that LBGTQIA people are flawed, that we're inherently damaged. I think that's dangerous and offensive."
Conversion therapy is opposed by the American Psychiatric Association, the American Medical Association, the American College of Physicians and the National Association of Social Workers. Some mental-health professionals, spiritual organizations and more, however, do still support the practice. For instance, asked about the Pittsburgh ordinance, Pittsburgh Theological Seminary professor Robert Gagnon says, "It would be a great shame for a politician to deny self-determination to adolescents."
Its advocates, however, say the ordinance is a big step in protecting LGBT youth, especially in light of the election of Vice President Mike Pence, a former Indiana governor who as a candidate for Congress once supported the use of federal funding to treat people seeking to change their sexual behavior. The legislation, however, would not ban conversion-therapy practices in the church, where many are impacted.
"If a faith leader wants to tell an individual anything — you will go to hell if you use contraception, or have an abortion, or if you're gay — they have a constitutionally protected right to say whatever they want to say," says Shannon Minter, a civil-rights attorney and the legal director of the National Center for Lesbian Rights in San Francisco. "It's very unfortunate for young people, because they generally have no choice in the matter and are sent there by their parents; and we know from the research that the number-one most damaging thing that can happen to an LBGT young person is to be told by a person of faith that they're going to be condemned and rejected by God because of who they are. It is deadly."
Howard says he's heard stories of just how deadly the practice can be. He says his boyfriend witnessed the devastating impact when he was subjected to conversion therapy as a child in his South Carolina church.
"He could tell that the numbers would dwindle as it went on," Howard says. "But it wasn't because the kids were doing better; it wasn't because they were released from the program. It was because they no longer existed on the planet. Conversion therapy has a very high death rate. There are kids that go into conversion therapy and kill themselves."
The American Psychological Association, which has disavowed conversion therapy, found that lesbian, gay, and bisexual young adults who reported higher levels of family rejection during adolescence were more than eight times as likely to report having attempted suicide.
Shawn O'Donnell, a 40-year old survivor living near Chicago, is among their numbers. He attempted suicide twice during more than a decade in and out of conversion therapy at the hands of both licensed therapists and faith leaders. While he went into the treatment willingly, he says his decision was based on fear of rejection by his family and church.
"It really screws people up," says O'Donnell. "People think it's a fix but it really takes a toll on the individual spiritually, emotionally and physically, to the point some people don't live full lives after this. I know people who are still struggling at my age because of what they've gone through."
While the ordinance won't prevent anti-LGBT spiritual counseling in the church, it can help those minors who were referred to licensed conversion-therapy psychologists by faith leaders. And beyond that, activists hope these bans send a message to parents who might be considering church-based therapy for their LGBT children. Ultimately, they hope the bans will lead to more readily available information about the dangers of conversion therapy.
"These families often have no idea how to react when they find out their child is gay or transgender, and often do turn to their own faith leaders," says Minter. "Way too often, the messages they get back are completely false. They get the message that being gay or transgender is a sin and a choice, and [that] it should be changed. These parents have no idea that they are directly causing their children harm. We've got to do absolutely everything we can to make sure parents have access to this information."