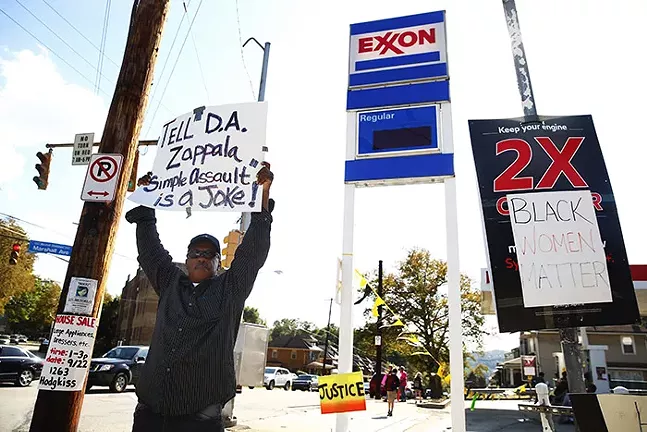 After an altercation in the North Side where two gas station owners and an employee
grabbed, threw, and punched two Black women
, the three men were charged with simple assault by Allegheny County District Attorney
Stephen Zappala
. Simple assault is classified as a misdemeanor crime.
For criminal-justice advocates and the majority of Pittsburgh City Council, this charge was too lenient. Protests have been held at the Exxon gas station on Brighton Road in Marshall-Shadeland, calling for harsher charges against the three men.
On Tuesday, six city council members said they plan to write a letter to the DA asking him to file felony charges against the three defendants.
Zappala said heavier charges, like aggravated assault, would require the assailants use a weapon.
Councilor Daniel Lavelle (D-Hill District) told
Pittsburgh Post-Gazette
on Tuesday that if law enforcement "saw three black men grab a white woman, drag her across the pavement by her hair, slam her head up against the gas pump, you can't convince me [that law enforcement] wouldn't say in some fashion that pump or that pavement [was used as] a weapon and raise the charges."
I am proud to support my colleague, @RDLavelle, as he leads on this important issue. I agree that DA Zappala should increase charges in light of the severe and ongoing trauma of Pittsburgh's Black residents. The pattern of violence against Black women must be considered. https://t.co/DVp9Jhn0DE

— PGH District 8 (@PGHDistrict8) September 25, 2019
Councilors Darlene Harris (D-North Side) and Teresa Kail Smith (D-West End) said they will not sign the letter. According to
WESA
, Councilor Anthony Coghill (D-Beechview) is undecided on the issue.
Protesters have been calling for a boycott of the gas station. Several demonstrations have taken place at the location, including one today. Marshall-Shadeland is one of Pittsburgh's most diverse neighborhoods; 48 percent of residents are white and 41 percent are Black.
According to
KDKA
, the owners of the Exxon gas station have terminated their operator lease.
Despite the pressure from community advocates and city council, Zappala has refused to change the charges.
"The evidence, based on what I saw, doesn't support [charging] aggravated assault,"
Zappala told TribLive
on Wednesday. "It would be easy for me to do politically. I have discretion, I can charge anything I want. It wasn't the right thing to do."
As a
video on Facebook shows
one of the victims was slammed into a pole by one of the gas station employees during the altercation.
Zappala
gave his comments to TribLive as he was receiving a 2019 "Guardian of Victims' Rights Award" by Marsy's Law for Pennsylvania and the Center for Victims.