Just short of a year after the
Pittsburgh Post-Gazette
fired
Rob Rogers, the paper's staff cartoonist of 25 years, the artist was crowned with Best Editorial Cartoon at the 73rd annual Reuben Awards.
Rogers
claims he was let go
for his criticisms of President Trump. Since his firing on June 14, 2018, he has moved his cartoon to syndication and continues to publish his popular left-leaning comics on his
website
.
Rogers was given the award at the National Cartoonists Society's annual ceremony on Sun., May 19 in Huntington Beach, Calif.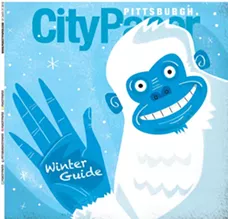 Pittsburgh artist Dave Klug, who
Pittsburgh City Paper
readers will recognize as the illustrator of last year's Winter Guide cover, also won the very first Reuben Award for Variety Entertainment, "defined as any newspaper, magazine, or online comic feature that contains puzzles, games, activities, trivia, history, or instruction."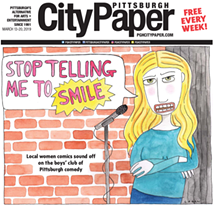 Another first: The MC for the awards ceremony was Pittsburgh's own stand-up comic Teresa Roberts Logan, the first woman to ever host the event. Pittsburgh artist Wayno, who attended the event, says Logan was "amazing." In addition to comedy, Logan also is the creator of the syndicated comicstrip
Laughing Redhead Comics
, and she illustrated March 2019's
City Paper
cover story on the sexism faced by women in Pittsburgh's stand-up comedy scene.
Pittsburgh artist
Vince Dorse
was also a nominee for the second year in a row for Online Comics-Long Form for his
Untold Tales of Bigfoot
graphic novel.
The
National Cartoonists Society
, the world's largest organization of professional cartoonists, honors the year's "outstanding achievements" in the annual ceremony. Props to all the local comics artists making Pittsburgh proud.