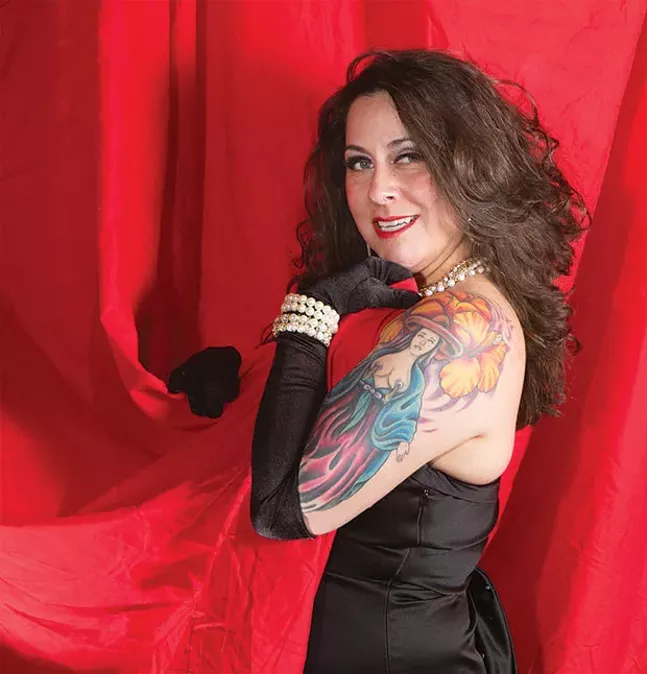 Viva Valezz has only lived in Pittsburgh for five years, but she's already at the top of everybody's list of favorite burlesque performers in the city.
She's a favorite of Boom Boom Bridgette, another performer, who's been active for the past eight years.
Though Valezz says the Pittsburgh burlesque scene is in its early but growing stages, Bridgette explains that 10 years ago, the scene was underground with only a handful of performers.
"Burlesque in Pittsburgh started with a small troupe of four or five girls and has exploded in the past two years," Bridgette says. "Every year the scene goes through a metamorphosis."
There are shows nearly every other week says Valezz, who is part of the Velvet Hearts, a queer burlesque troupe. The Smokin' Betties, another burlesque troupe, perform often at Club Café.
Bridgette, as a producer, performer and owner of Pin-Up Productions, says that the Oaks Theater, in Oakmont, is one of her favorite spots. The venue can accommodate more than 300 guests, and she describes the atmosphere as more intense than intimate bars.
And every other year, Pittsburgh is treated to FIERCE, one of the few queer international burlesque festivals. Founded by Valezz, and now in its sixth year, it's headed to Toronto, but will make its way back to Pittsburgh next year.
If you're interested in strip tease yourself, both Valezz and Bridgette are on the forefront of teaching the art locally. Valezz co-manages Better. A Studio for You, where she teaches beginner "burlesque goddess" classes.
"I love seeing women learn how much power they have in expressing their femininity," Viva says. "Through these classes, I watch them blossom and discover [themselves]."
And Bridgette teaches seven-week classes at Fitness Envy. Says Bridgette, "The classes are good for people who want to love themselves, learn something sexy for a partner, or want to get on the stage."