Pittsburgh Black Pride has been running for 24 consecutive years, but unlike more well-known LGBTQ celebrations, it has not drawn as much city-wide attention.

Following historic rulings, like the right for all American same-sex couples to marry, Pride celebrations have hit the mainstream more than ever before, including in Pittsburgh. This year's Pride in the Streets, which is run by the Delta Foundation, was the largest in Pittsburgh's history and has become so successful in attracting corporate sponsors that a counter-event celebrating LGBTQ rights called People's Pride has also gained steam. People's Pride embraces an intersectional LGBTQ celebration and rejects the corporate sponsorship of Pride, especially from businesses like EQT that also donated to anti-LGBTQ politicians.
Basically, there is a lot of Pride in Pittsburgh, so where does that leave Pittsburgh Black Pride?
Andre Brown, the new executive director of Pittsburgh Black Pride, says he is trying to steer the organization to be somewhere in the middle. He says Black Pride is committed to addressing the racism in the LGBTQ community and being vocal is part of tackling that, but also says that building relationships with a diverse set of LGBTQ and non-LGBTQ organizations is crucial to combating some of the inequities facing Pride celebrations.
"Some folks think protesting is the way, some want to work behind the scenes," says Brown. "I think it is a bit of both. We have to be vocal, but it does require being strategic too. Building relationships tend to happen in private."
Pittsburgh Black Pride board member Flecia Jackson agrees. Black Pride isn't just a celebration; it is a time to confront some hard truths about the region's LGBTQ community.
"Black Pride was put in place for the community to recognize that we exist," says Jackson. "There is ignorance in our community of the LGBTQIA people of color [experience]."
But first, Pittsburgh Black Pride needs a bit more attention. Brown says he needs to get more people in the community to notice and participate in the events. This year's Black Pride takes place over several events spanning from July 24-28. There will be an opening reception at the August Wilson African American Cultural Center, a karaoke night, and a community barbecue with food, music, and performances in Schenley Park. All events are free and open to the public.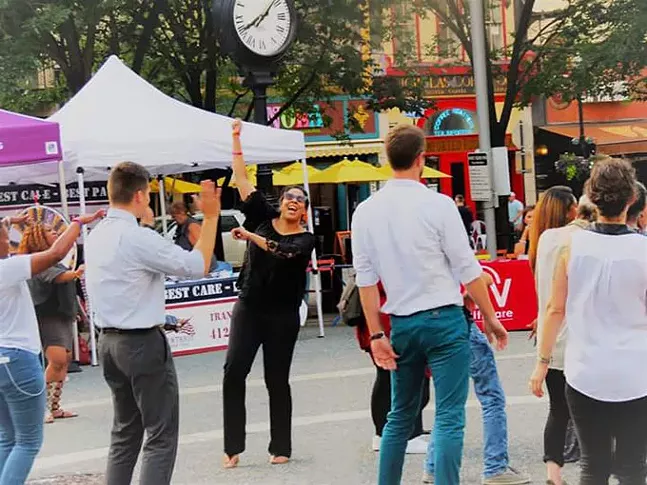 Brown, who has been involved in Black Pride for about two years, says the group has struggled to attract large numbers. Black Pride takes place about a month after Pride in the Streets and People's Pride, both of which attracted large crowds in June this year.
Brown believes both of the June Pride celebrations can be beneficial to his organization's event, saying the larger Prides are a good opportunity to advertise for Black Pride. Even so, Brown recognizes the growth of Black Pride hasn't come as quickly as he had hoped.
Last year, the organization went through structural changes, including establishing a board. Brown says Black Pride is still pushing towards more growth and thinks the structural changes are a part of that. But he says it might take a while.
"At the time of rebirth, we were really excited about the infrastructure changes," says Brown. "It has been a lot slower as we had hoped for. It certainly is a long game."
But Brown has a strategy for sustaining the organization. He believes establishing a network of professional connections can help Black Pride expand and accomplish the organization's goals of helping the Black LGBTQ community.
One of those organizations working with Black Pride is Steel Smiling, a local mental-health nonprofit. Brown says this partnership will showcase the underlying theme of this year's Black Pride: bringing awareness and action to mental health issues within the Black LGBTQ community. Participants in Pride events can make connections and learn about mental-health services available to them, as well as provide free mental health first aid training.
"We see from the data that Black gay folks have higher mental health problems," says Brown. "We don't have a lot of mental health resources in our community and definitely not those that are appropriate to Black queer folk. We are really trying to help folks face the realities of an unjust world, but at the same time trying to make inroads into providing them help."