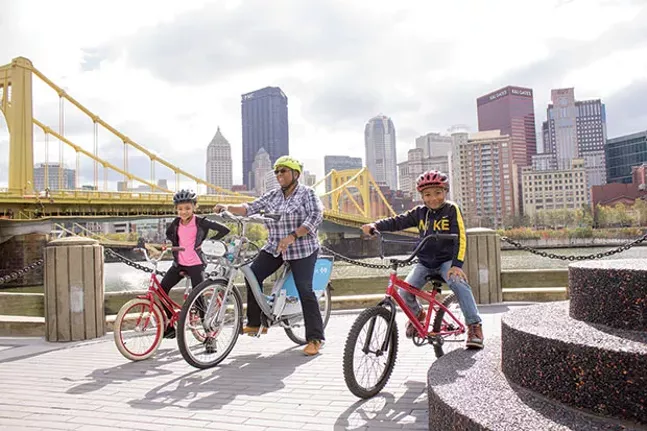 For all the criticism of bikes, bike lanes and bike-riders, there is one legitimate bike-related criticism that sticks: Bike-share systems often don't help low-income and minority neighborhoods. In Washington, D.C., in 2016, only 4 percent of bike-share riders were African-American, despite being 50 percent of the city's population. In Pittsburgh, the one Healthy Ride bike-share station located in the Hill District is often the least-used station among the 50 located throughout the city.
Officials at Pittsburgh Bike Share, also known as Healthy Ride, recognize this disparity, and are tackling it head-on with a recently announced expansion. By the end of 2018, Healthy Ride should have 125 additional stations, for a total of 175 stations throughout the city of Pittsburgh. Many of the stations are strategically located to increase connectivity to business districts and public transit, and some are moving into predominately black neighborhoods where there currently are no stations. More than 20 bike-share stations are coming to unserved parts of East Liberty, the Hill District, Homewood, Larimer and predominately black areas of the North Side.
Healthy Ride spokesperson Erin Potts says the decision to expand into some of Pittsburgh's black neighborhoods was always part of Healthy Ride's plans.
"I think it comes down to our mission statement," says Potts. "We are here to provide active-transportation options to Pittsburghers, regardless of their neighborhoods. We were missing out on neighborhoods in need of better transit."
Potts says Healthy Ride started reaching out to low-income communities in 2016, about a year after the bike share launched in May 2015. Bike infrastructure hasn't always been welcomed by low-income communities, but Potts is confident Healthy Ride's new expansion can change some minds.
"A lot of people have preconceptions of what bike-share means for the community," says Potts. "That is why we have been engaged. We don't want [bike-share] to be just for a certain demographic, and we don't want this to be perceived as something not for them."
Potts says another benefit more people can utilize is Healthy Ride's partnership with the Port Authority of Allegheny County. Transit riders can tap their ConnectCards on Healthy Ride bikes to get a free 15-minute ride, even if riders don't have a credit card. With more stations, Potts says it will be easier for Pittsburghers to complete the last mile of their commute.
In addition to the station expansion, Healthy Ride was also recently awarded a grant from New York-based Better Bike Share Partnership to increase engagement in low-income and minority neighborhoods. By this summer, Healthy Ride will hire an engagement coordinator and six stipend-based neighborhood ambassadors to run programs and teach riding classes in neighborhoods, such as Homewood and Larimer. Potts says ambassadors will be from the neighborhoods they are serving, and Healthy Ride will be partnering with organizations like the Thelma Lovette YMCA, in the Hill District, and the Homewood Children's Village.
"We are really excited," says Potts. "We are really going to be relying on community."