The first thing Cyrus Gold frontman Keith Bryner notes about the band is that it's made up of "old dudes." Three of the four members are parents, and they've even played shows with drummer Gregg Weber's son's band. I joke that this technically makes them dad rock.
"We're very Steely Dan-influenced," Bryner says with a laugh.
Actually, Cyrus Gold, releasing a split 10-inch with T-Tops this week, is more likely to draw comparisons to noisy, aggressive, off-kilter bands like Ken MODE, Drive Like Jehu or Shellac. And, really, these guys aren't that old, even if familial responsibilities do restrict band time. But Bryner sees artistic value in that restriction. "It's almost a distillation," he says, explaining that limited time allows the band to produce more efficiently. "It almost has to be [a] concentrated blast."
Cyrus Gold formed about three years ago when Weber and bassist Justin Pelissero, who had played together in bands like Miracle Worker, joined Erik Wynn, former guitarist of Complete Failure. "Justin's pedigree goes back to late-'90s emo bands like Davenport … where Gregg and Eric [had] more a heavy-rock, hardcore perspective. So … what they were going for was an aggressive blend of those elements." Bryner, whose last project was a solo electronic-drone act, joined last, rounding out the band's sound with urgent, blown-out vocals.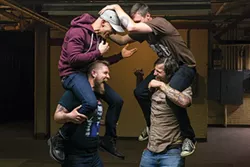 Cyrus Gold doesn't totally fit into any particular faction of the music scene, but Bryner says the members feel a kinship with bands like T-Tops, Night Vapor and Broughton's Rules — that is, bands made up of Pittsburgh music veterans who share the "ability to keep pace despite our age [and] responsibilities."
Which is why putting out a record with sludgy trio T-Tops seemed like an especially fitting choice. "T-Tops are kind of the closest brothers from a different mother that we have musically," Bryner says.
"We have a sound that resonates with kids who are 17 or old punkers who are in their 40s, but the whole endeavor has a kind of gravity to it because … what we're doing is kind of informed by a lot of interesting life experiences."