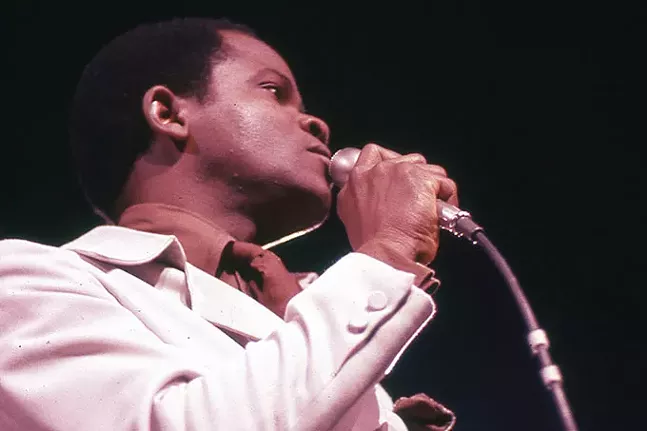 The prologue of Hold What You've Got, a new biography of the soul singer Joe Tex by Pittsburgh-based author Jason Martinko, starts with James Brown holding two shotguns.
It's 1963 at an Otis Redding show at a club in Macon, Ga., where Tex had earlier mocked James' caped, onstage antics with a "raggedy blanket with holes in it," saying "Please, please, please get me outta this cape."
Word eventually got to Brown, who did not appreciate the joke and made his way to the club with a gun in each hand. Martinko writes:
"Suddenly, someone fired at Brown and then he fired back, spraying buck shots throughout the bar, missing his target, but allegedly injuring seven people. Pianist Johnny Jenkins and Otis Redding hid behind the piano, while drummer Charles Davis continues playing through the commotion, initially unaware of the gunshots. Joe Tex escaped out a back door and was running through trees and bushes. James Brown's tour bus quickly pulled up and Brown jumped in, driving away in a hurry. A member of Brown's entourage briefly stayed behind, handing out one hundred dollar bills to the injured, asking that they keep quiet about the incident. One thing's for sure, Joe Tex could really get under your skin."
Tex's rivalry with the inarguably more famous Brown weaves its way through many of the chapters in Martinko's book, but the narrative isn't the one you might expect. This isn't a finger-wagging at the general public for not giving Tex his due, nor a celebration of obscurity. Martinko acknowledges Tex's place in the history of American soul and funk while keeping the focus squarely aimed at Tex and his contributions to the artform.

There's not much of a Pittsburgh connection for Tex, though there was a stage play called I Gotcha (The Story of Joe Tex and The Soul Clan) that came to Pittsburgh in 2010, about Tex and the supergroup he formed with Solomon Burke, Otis Redding, Don Covay, and Wilson Pickett. For Martinko, it's not really about any geographical relevance, just a story he thinks is worth being told.
Hold What You've Got is out now (published through Lulu.com) and you can catch Martinko paying homage to Tex on Sat., Aug. 10 at Hard Rock Cafe, where he'll join his band, The Braddock Brothers, and Tex's son for A Tribute to Joe Tex. Pittsburgh City Paper spoke with Martinko ahead of the show to learn more about what attracted him to Tex's story.
You write about how Joe Tex had the ability over his career to mix silly with deep, playful with profound.

Even when he's singing his saddest songs, he has this little laugh he does. Even on the saddest ones, he does the laugh. He's always looking at everything tongue and cheek even when he's being totally serious and sometimes he just gets completely ridiculous. There's this song of his, "King Thaddeus," it's about a love affair between a rooster and a hen and it's kind of gossiping around the barnyard. It's deep but it's also ridiculously funny.
What's your favorite Joe Tex story in the book?

Obviously, the James Brown story is probably the most entertaining and exciting one. Other than that, there's a story I really like where it says that Joe was really dangerous behind the wheel of any car. ... Because when he'd be driving, he'd like to write songs on the spot and sing them to people in the backseat of the car. He was always getting into wrecks. He had a little TV … There was a newspaper article about him getting arrested for watching TV while driving on the highway. That's pretty funny.
Because Tex is well known but not necessarily a household name, I imagine there was a possibility that the book could have taken the angle of focusing on him being unappreciated. But you don't really do that. You just focus on his story.
That's just the way I felt it should be and why I got interested in him. Because you know, I always read music biographies and was interested in that stuff my whole life. I heard him on the Reservoir Dogs soundtrack, that's where I originally discovered him. I was like, "I never heard of this guy." I'd usually heard of most musicians at that point in my life that were noteworthy. This guy is so great. I couldn't even picture what he looked like when I heard the song. I thought he was gonna look like Sly Stone, all crazy looking. Then I went and found the record, he's wearing a little bow tie and his little short haircut and I'm like, "Wow, this doesn't look like what I expected." He was just a mystery to me. Then when I heard all the songs, I was like, "Why isn't he as famous? Why don't people know his name as well as Aretha Franklin or James Brown?" I think he's just as great as any of them.
Who was your favorite interview subject to talk to for the book?
Jerry King was really helpful, always enjoyed talking to him. He was a piano player for Joe near the end and he was co-writer on "Ain't Gonna Bump No More." He was fun to talk to. Of course, I loved talking to Joe's son, Joe Tex II. Lance Shabazz was a really important guy who was a documentarian who had already interviewed a lot of Joes band members, friends, and family, and he was just great. He supplied all the photos in the book, from his personal collection over the years, all the newspaper clippings in the book.
Like you said, many people were introduced to Joe Tex through "I Gotcha" on the Reservoir Dogs soundtrack. Is "I Gotcha" a standard Joe Tex song or an outlier?
That's an outlier. That's an originator of funk music in general. It's a really important song. I love all his stuff. He has 1950s rock 'n' roll stuff that sounds like Little Richard — I love those — and the sweet soul ballads, and then he starts to get real funky. I love how he adapted to each generation, he never quit. He could just change with the times and whatever was popular, he could do it and do it truly and not be fake about it.
"I Gotcha" is the entry point for many fans of Joe Tex. What songs would you recommend for people who want to dig deeper?
"The Love You Save" shows him pretty bare. You have to listen to "Show Me," that was a song that he wrote that [the] most people covered, that was covered over the years. I have to say "Men Are Gett' Scarce" is one of my favorite ones.
What's it about?
It's about the Juneteenth party he would have in Navasota, Texas every year. His family would be around, just describing the people in his town, his family, sitting around partying. It's just not like any song you've ever heard. It's funky.