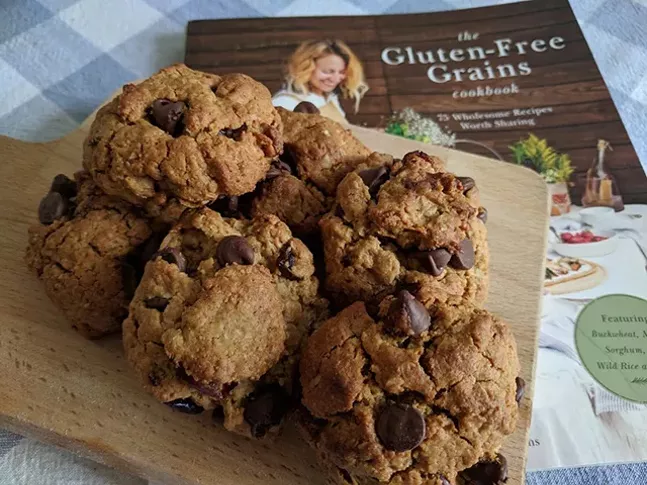 The Gluten-Free Grains Cookbook
is built on the author's cooking blog, With The Grains, where she shares recipes and their backstories. While Kogel is not strictly gluten-free, her cooking style relies heavily on alternative grains that can work with all diets. After nearly a decade of collecting recipes, her cooking style has culminated with this cookbook designed to "appease everyone at the table."
The Pittsburgh-based author, designer, and stylist views food as a connection to those around her table, to her health, and to her agricultural ancestors, who used "nature's genius instead of man's chemicals." Her focus on non-gluten dishes is to promote "real" eating, aka food without preservatives and additives. It's another way she encourages communal meals as gluten intolerances become more prevalent.
She doesn't sugar-coat the difficulty of sourcing a gluten-free pantry, calling it "a literal uphill climb." The book introduces fake-sounding, ancient grains — amaranth, buckwheat groats, and sorghum — one by one, acknowledging the history, flavor, and texture of each (thankfully, she includes visual aids).
Even without the stunning photography — Kogel's food styling skills shine throughout— the book is a page-turner. She takes readers through breakfast and brunch, long Sunday suppers, grain bowls, and ends with sweet confections. Recipes go beyond the average oatmeal or chocolate chip cookies, instead gifting readers with creations like beet breakfast cakes, Thai-inspired cornmeal sopes, and sloppy joe sweet potatoes. There's something for everyone, from novice cooks to kitchen experts to Kogel's beloved pup, Julep.
I tested my middle-of-the-road culinary skills on Kogel's everything cookies. She dubs them her "solution to childhood petulance and [her] adult analysis paralysis." The recipe threads together her mother's day-long cookie bakes, her stint at Allegro Hearth Bakery, and healthy (ish) eating. It's all of the cookie classics in one, laden with chocolate chips, golden raisins, crunchy buckwheat, and peanut butter.
Locating the unfamiliar ingredients without a stocked whole-grain pantry was the most difficult part of Kogel's cookies. Even with my oat flour and buckwheat groats in hand, I still added gluten by mistake. But despite my gluten-free faux pas, the cookies were delicious. They're stout and dense like a muffin, and slightly sweet from the marriage of honey and brown sugar.
The Gluten-Free Grains Cookbook
is "about more than buckwheat, more than millet." It's about intentional dishes, sharing and learning, sticking to values, and moving with the seasons. Kogel brings imagination and personality to her table, which makes everything taste better.