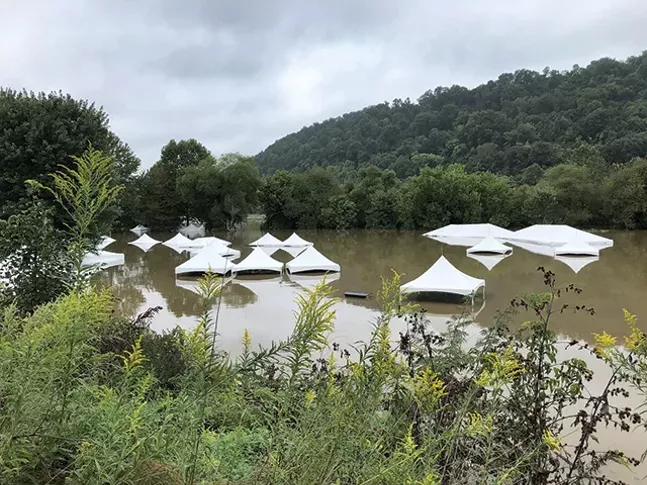 Earlier this year, the Pittsburgh Irish Festival was completely under water. Not metaphorically, like actually under water. A terrible storm flooded most of the Riverplex at Sandcastle Water Park, where the festival is held.
"We joke that the luck of the Irish ran out," says Mairin Petrone, director of the Pittsburgh Irish Festival. "One of our fans called it Gaelic Storm."
As a result, the festival, which ran the weekend of Sept. 7, had to cancel for the first time in its 28-year history. Besides losing an entire day, the following day saw only 30 percent of the usual attendance. The experience speaks to the challenges many in Pittsburgh's arts and entertainment scene face as extreme storm conditions become more common.
The monthly open-air marketplace, Neighborhood Flea, also had a first-time cancellation when its September event was threatened by bad storms. Organizers had to prioritize the safety of the vendors, crew, and customers, as well as the product.
"It just wasn't fair to have the event," says Carrie Nardini, who founded Neighborhood Flea in 2014. "There was no way it would be good for anybody."
Nardini claims that a number of factors prevent the Neighborhood Flea from setting a rain date or moving indoors, as increased development in Pittsburgh has made many venues unavailable or too expensive.
As expected, the uniquely bad weather had an economic impact. Because of the flood, the Pittsburgh Irish Festival's parent organization, the Irish Partnership of Pittsburgh, lost around $90,000, all funding that would have gone towards the various educational and Irish heritage events it holds throughout the year.
While they regained some of the money through fundraising efforts, Petrone says they still need to recoup $50,000 if they want to host the festival again next year.
"It was pretty devastating for us," says Petrone, adding that they hope to raise the rest of the money through events like a group tour to the new Guinness Open Gate Brewery & Barrel House near Baltimore and through a gift booth at the Downtown Peoples Gas Holiday Market.
Pittsburgh even became a cautionary tale at the most recent conference for the nationwide Association of Irish & Celtic Festivals, which the Pittsburgh Irish Festival attended. "They held a session on how not to be Pittsburgh, and how to make sure you're prepared financially," says Petrone.
While the annual Three Rivers Arts Festival famously has bad luck with rain, its participating artists faced even worse conditions this year. One vendor, silhouette paper cut artist Kathryn Carr of Go Carr Go, arrived at the festival one morning to find that her booth had been destroyed by a big storm the night before.
"The night security guards had tried to rescue as much of my art as they could, but the damage had been done," says Carr. "I lost just about everything to the rain."
Nardini believes the rain chased away many of the Neighborhood Flea's customers and reduced sales for its vendors, many of whom are from out of town.
With the climate warming, and Pittsburgh seeing intense summer storms become more frequent, many outdoor event organizers are now bracing for the possibility of severe weather while planning for the future. Still, many seem hopeful, including Petrone, who says the Pittsburgh Irish Festival has not ruled out the Riverplex as a potential location for next year.
"This flood was kind of a freak thing that happened, so the likelihood of it happening again is very small," she says.
This year, heavy rains drenched crowds at Thrival, the three-day multimedia festival presented by Ascender, and shut down its big live music finale. Even so, Ascender CEO Barrie Athol says they already set the dates for next year's Thrival and have started looking at possible venues.
"We're aware of what happened this year and we're committed to continuing to put on really great festivals for the city and do everything we can to do that," says Athol.
Nardini says they plan to keep the Neighborhood Flea in the Strip District and hope for the best.
"We're looking forward to another season and crossing our fingers," says Nardini. "Sometimes you have bad years, sometimes you have good years. This year, though, was generally not kind to artists and outdoor sellers. Everybody is just hoping that next year will be more forgiving.