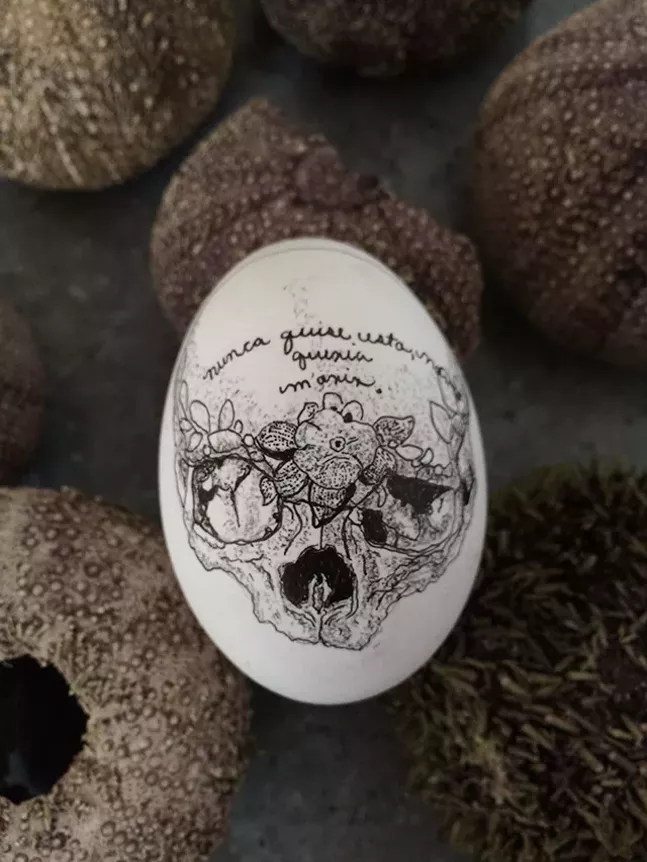 Ana Armengod's journey to Pittsburgh wasn't easy. The artist, who works under the name Ana Humanleather, was born in Mazatlán, Sinaloa, an epicenter for Mexico's drug cartels. As a result, she moved around a lot before settling in Braddock. But in 2015, her life as a student at Pittsburgh Filmmakers was disrupted when she was deported for what she cites as a paperwork issue after marrying her husband, an American citizen. Undeterred, she returned at the end of 2016 and secured a permanent visa.
Now living in Braddock again, she works as an illustrator, filmmaker, and as a lead vocalist for the punk group De Rodillas.
Armengod spoke with Pittsburgh City Paper about her process and what drives her work.
You work in a number of mediums. You also work with eggs as a palette?

The Gifted Egg Project started because I wanted to make something that was not to be kept. The whole point is that it's an exercise in letting go. So I make these drawings, which take me anywhere between six and 12 hours to make, on an eggshell, and they're so small and delicate, and I give them to someone as a gift. And when I present it as a gift, I ask for them to break it, and the reaction is always the same — people don't want to break it. It's almost as if it's painful to go through.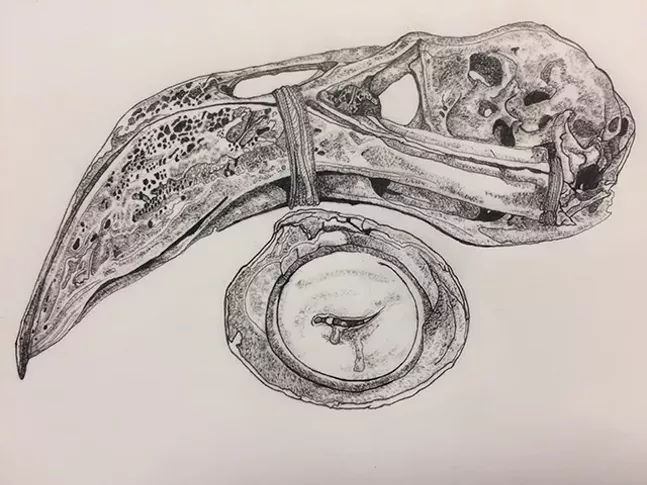 How does your approach to film differ from your other work?

My preferred method of film is [to] shoot on Super 8mm. Most of the things that I do, which are experimental, are horror. But it's my ideas of horror. My short films are a guy who keeps his wife prisoner, and he's the one who hurts her, and this idea of the person that you love being the person that hurts you. Another one is a woman who thinks that she has the Devil inside of her and she gives herself a coat hanger abortion, so that's another idea that terrifies me, which is people having decisions over your body and the [number] of women that die because of not having accessibility to legal abortions or any kind of medicine.
Just looking at your work, it's dark, but it seems like there's a lot of naturalism in terms of the imagery and materials.

I grew up in a city by the beach. My parents had a lot of money before I was born and then they lost everything because Mexico went through the worst economic depression since the 1930s. What created this economic depression had a lot to do with the NARCOS, especially where I'm from, which is Sinaloa, which is where the cartels come from. So I grew up in a house that was in absolute poverty, but also had the accessibility to education and books from floor to ceiling. Culture was very pushed on me, but it was also a very humble life … I was surrounded by nature. It was my everyday life, and it was what made me happy.
Can you give me some idea of what life is like for you as an immigrant?

It's very scary to know that if you make a wrong turn in any direction you can still lose the things that you work hard towards. That's what happened when I was deported. I was attending school and I had things going on in my life and those things were gone. … It's not like someone gives you warning that you're going to get deported. You don't have time to pick up your things. It just happens. When I was deported, I was coming back and visiting my parents in Mexico and I was stopped in an airport and that was it. There were no goodbyes. Before you can see anything else, you're just handcuffed and off you go.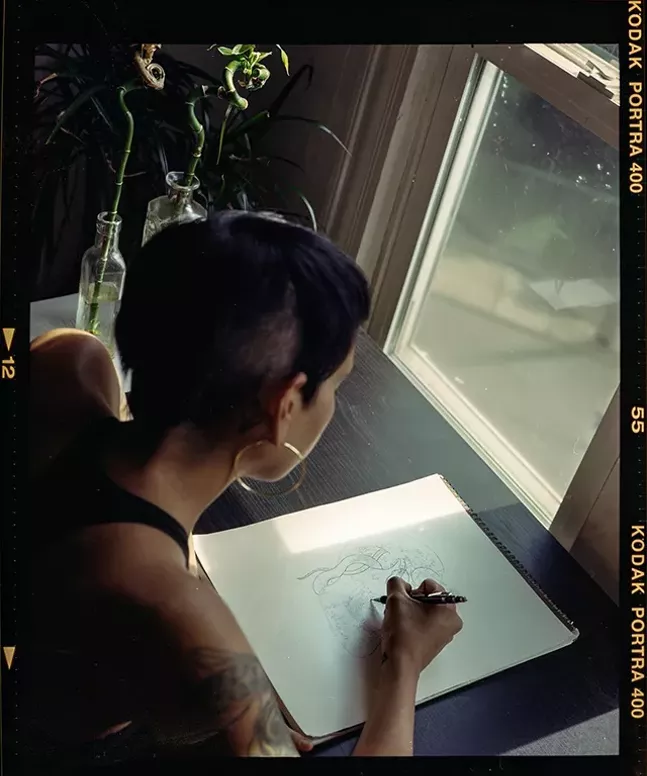 What do you hope audiences experience with your work?

I want to put a voice into the things that I feel don't have a voice. Last summer, along with Katie Krulock, who is a photographer from Pittsburgh, we had a show in Braddock at [UnSmoke Systems] … I suffer from pancreatitis. I was 22 when I was diagnosed. I, for a long time, was in and out of hospitals. There are a lot of things that go into my everyday life that have to do with being sick and it's very exhausting and you have to continue.
My piece for the show was creating this room that imitated the room that I was hospitalized in at UPMC, and it had a bed and it had my gown and it had my hospitalization papers. So it was a really dark room that you had to go in … and then you could hear my voice speaking and see one of my projections … Peoples' reactions, it was very hard to be there, because really they could feel themselves be isolated in the same way that I felt isolated being hospitalized, and what I was going through emotionally, and how hard it was. So, to me, my art and what I want to do with my art is to really have people put themselves in my shoes and just see outside of their everyday life and realize that there is a whole world out there that is experiencing many, many things, and many of those things are not pretty.