When Blair Gerlach talks about his team, Northern Steel Fusion, pride brims in his voice – and with good reason. In late July, the Pittsburgh-area U-14 girls club soccer team Northern Steel Fusion – for whom Gerlach is Director of Coaching – traveled to the US Club Soccer National Cup, in Westfield Ind., where they took home the top prize.
"When you talk about working with players at this age [under 14]," Gerlach tells
CP
by phone recently, "these are kids who are about to go into high school; you're trying to get them the experience of playing on a big stage for when they step on their high-school field as freshman they can actually compete with some of these seniors."
And the players had ample opportunity to prove themselves, playing five games over four days (July 21-24); a four-game round robin followed by a match between the top two teams. The first two games were ties – 0-0 and 1-1 – followed by Northern Steel Fusion winning game three, 3-0 and game four, 4-0. The final game was a nail-biter, where they won 3-2 against Minnesota-based team REV GU14 Academy Black in overtime.
"It was really frustrating while it was happening because you're 30 seconds away from a national championship if you give up a goal and … then you get into overtime and score and you're like, 'Ok never mind,'" Gerlach recalls. "But it was really exciting."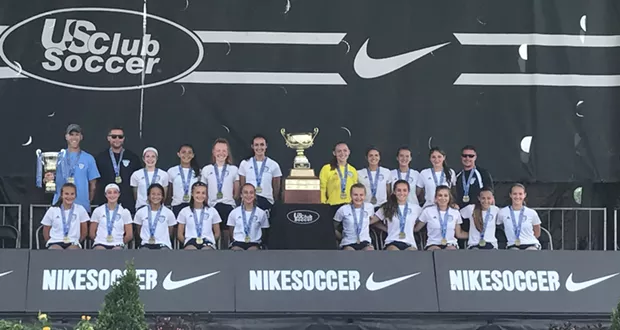 He notes that, at this level of competition – where scores were close across the board — the team needed to not only win, but actually score, building up its goal differential to secure a top seed.
"But," he says, "they came out and they put up these numbers … [It's] shocking at a national level to win a game 3-0 and 4-0. So you put the pressure on these kids and they rose to a level [of playing] two full games not only scoring goals but pitching shutouts. So in three of our four games, in the beginning, we didn't let up a goal. It was fantastic."
That kind of stress is a lot for anyone to handle, especially in that young age bracket, but Blair likes to take the honest approach when it comes to offering guidance to the players.
"I'm a big believer is telling people the truth, and really letting them know what's at stake. So I don't really hold anything back from them," he says. He gives some positive reinforcement, reminding the team members that they've earned their place in the competition: "A little bit of 'I trust you, that's why I brought you here, you're good enough to be here,' … but holding them accountable at the same time to make sure that they do their job," he says. "It's a little bit of confidence building, a little bit of that challenge."
Northern Steel Fusion roster
Stephanie Adkisson – 18
Alison Altman – 93
Andrea Bean – 42
Gabrielle Boden – 10
Natalie Brands – 41
Elena Carlson – 3
Isabella Cinalli – 49
Tehya Dave – 16
Vanessa Drohan – 7
Alexandra King – 25
Samantha King – 15
Gabby Kutchma – 9
Ava Lamory – 8
Amanda Malobicky – 21
Victoria Michalski – 6
Kara Rocco – 13
Erin Rodgers – 47
Brianne Torchia – 22