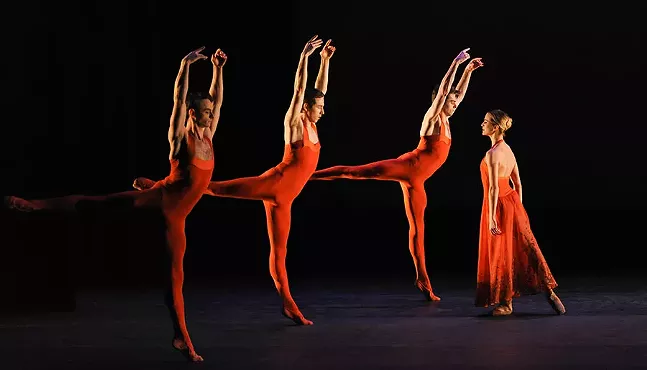 When the curtains open on Stanton Welch's "Orange," three couples stand, their backs to the audience. It's a striking first look, with stage lights bouncing off lush orange costumes, reflected in the deep, rust-colored backdrop. Statuesque dancers begin to move in short, almost mechanical jolts, softening with the touch of their partner.
Over the next two weeks, Pittsburgh Ballet Theatre (PBT) and Dance Theatre of Harlem (DTH) will perform a diverse repertoire of works at the August Wilson Cultural Center, celebrating a combined 100-year legacy between the two companies.

This set of performances marks the second partnership between PBT and DTH. The first was a series of sold-out shows in 2017. But this year, instead of dancing individually and featuring a combined pas de deux, the companies have come together on a collaborative work, "Orange."

Each company will still present a separate work in a range of ballet styles. PBT re-stages George Balanchine's "Rubies," while DTH performs "Balamouk" by Annabelle Lopez Ochoa and "Harlem on My Mind" by Darrell Grand Moultrie.

"Rubies," a work from Balanchine's Jewels, is a timeless, intricate piece. The flurry of movement from the corps contrasts with a regal pas de deux. Female principles read like Alice in Wonderland's Queen of Hearts: sassy, demanding, and a bit clownish. Flexed feet add quirk to the choreography, bolstering the whimsical air. It's a joyous and noble whirlwind.

DTH is a chorus of personality. The "Harlem on My Mind" vignettes start with a 1920s feel, using flapper prances and an athletic, jumping play on big bands. There's a slick solo, done in a comedic, Fosse style. A salsa-style pas de deux follows, sweet and smooth. It's casual and fun, but there's obvious, trained technique. Lines are blurred between ballet, modern dance, and jazz.

"Orange" is show's focal point. It's designed around three couples, a mix of PBT and DTH dancers. Every night, the work will change with a different balance of dancers.

Set to the music of Antonio Vivaldi, "Orange" conveys an inexplicable sorrow, depicted through the dancer's sharp movements. There's a flowing, seamless display of support, merged with bodily collapse. Dancers sweep the floor, floating from lifts, inducing goosebumps with uninterrupted, fluid movements. Vivaldi's composition ends jovially. In the work's final moments, pain returns as a cannon of abrupt movements, dancers surrendering to a stark orange background.

Though each company learned choreography apart and had a few weeks of rehearsal time together, there was no disconnect on stage. Couples filled the stage with an equal display of artistry sprinkled with individuality, represented in each dynamic pas de duex. It was truly spectacular.

As PBT Artistic Director Terrence S. Orr puts it, "dancers speak the same language. It's a language of the body, showing honest threads. It resonates with the human spirit." Watching PBT and DTH, this connection, between dancers and companies, is clear. Pittsburgh is privileged to have this collaboration, celebrating the diversity of ballet.

A few tickets are still left for the upcoming performances. Visit pbt.org for more information, a video of the 2017 production, and more.