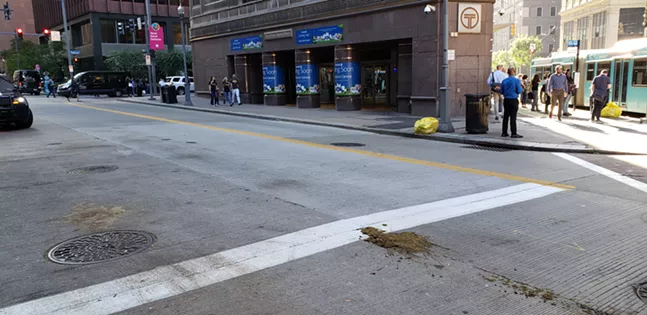 I have crafted about three possible routes for my walk from the Wood Street T station to the City Paper office. In the past month, each one of my three paths have been graced with horse shit. Literal shit from a horse. Sometimes fresh, sometimes aged, sometimes shapely, sometimes squished. But all poop from a horse's butt. It doesn't take a scientist to identify. I have a dark history of field trips to the South Park Stables.
According to Pittsburgh Department of Public Safety spokesperson Chris Togneri, there are reasons for the proliferating poop in Downtown.

"[Pittsburgh Bureau of Police] generally deploys four to six mounted units to the Downtown area during the day. Typically, the horses do not spend the entire day Downtown but are moved throughout the city based on need. However, in light of recent events and with school resuming, they are staying Downtown all day," wrote Togneri in a statement. "So the number of horses deployed Downtown has not increased. But the amount of time they spend there has increased."

(I asked real journalist Ryan Deto to ask around, as I am not allowed to use a telephone, which is a rule I gave to myself.)
To address the problem, I did what I do best — I complained on the internet.
<!—————EndFragment—————>
That attachment represents our offender, as pictured below.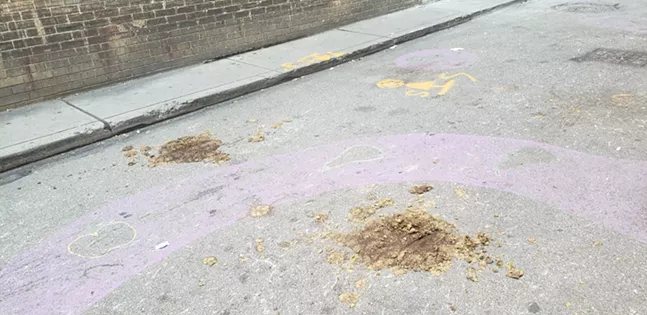 Our editor, Lisa Cunningham, captured the same turds in their original state. Lisa is to breaking news like flies to shit. That's why she is the boss.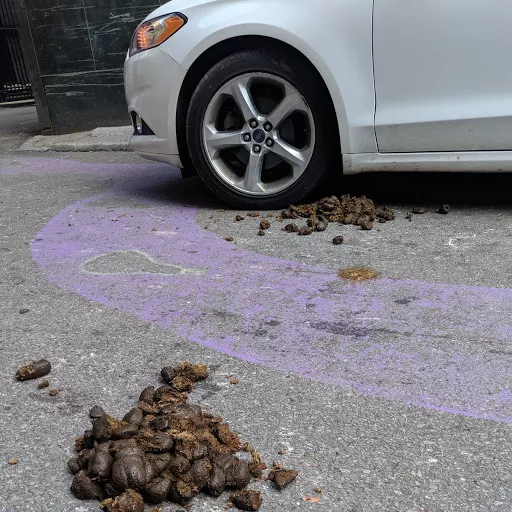 After monitoring my complaint online for three days, I had seen that they changed the subject from "911 Performance" to litter. Yesterday, the request had a "In Progress, activity entered" alert. Progress!
Today, the request was closed. If anybody knows where the "activity entered 2 days ago" could be found, let me know. Did they buy large ass bags for the horses? Did they just push a couple of buttons to process the request.
I'm fine with either.