Mathew Rosenblum is looking at some sheet music, and he's excited. For one thing, it's sheet music unlike what you'd expect: Through most of the score, there's no staff and no time signature, and the directions don't say stuff like "andante," but instead make references to emotions, non-musical ideas, animal sounds. They're "graphic scores" written by American composer Burr Van Nostrand, and beside being innovative and experimental, they're close to Rosenblum because Van Nostrand served as a mentor to him when he was in school.
Van Nostrand, though, went largely unnoticed for a great deal of his life, only finding something of a renaissance in recent years, with New World Records releasing his works on CD, and big-name critics like Alex Ross singing his praises. It's easy for a composer, not unlike a pop songwriter, to toil in obscurity for a long time. And that's a challenge Mathew Rosenblumhas taken on, as a faculty member at the University of Pittsburgh, and a well regarded new-music composer who is known for working with microtonality, tones that fall between the notes of the standard scale. In fact, he knew even in high school in Queens, where he grew up, that the kind of work he did might not gain him a ton of fame.
"A bass player who sat in as the director of our jazz band asked us all if we wanted to write for the jazz band," Rosenblum, who started as a saxophonist, recalls. "I wrote a sort of way outside, free-form thing that was based on music I was listening to at the time — the Jazz Composers Orchestra was what was going on in New York. And [the high school jazz band] played it, and it was kind of wild, and he took me aside and said, 'I would get all your music played right now in this semester, because you're never ever going to hear your stuff again.'"
He laughs about it today, but that's a sentiment often directed toward contemporary composers whose work is challenging; being a composer working off the beaten path, then, often involves not just writing music, but creating spaces where people can find it. That's why Rosenblum and his Pitt colleague Eric Moe together run Music on the Edge, a series that brings chamber-music ensembles to Pittsburgh, usually The Andy Warhol Museum, to play contemporary works.
Moe and Rosenblum first met in San Francisco when Moe lived there in the 1980s. "I had a new-music ensemble there," Moe recalls. "We were always looking for the coolest stuff we could find. Mathew's work was really unlike anything I'd ever heard."
When Moe joined the faculty at Pitt in 1989, he says, "One of the first things I did was hire Mathew." Rosenblum had credentials as an interesting composer, and as someone who was doing work that was very different from what Moe was doing. ("I just wrote my first microtonal piece last month," Moe notes, twenty-odd years after starting to work with Rosenblum.) Rosenblum started at Pitt in 1991. Moe had already established Music on the Edge himself, but it soon became a joint venture. "We sat down and thought, 'How could we make this into something more?'" says Moe.
At the time, the Pittsburgh New Music Ensemble was the main institution working with new music locally. "When I first came to Pittsburgh," Moe says, "the funding climate was: 'Well, we already have a new-music ensemble, why would we need another?' Well, I just came from San Francisco, where we had six, and they were doing just fine."
Rosenblum, Moe says, helped to make Music on the Edge an institution. "He was able to find secure financial backing for it," Moe notes.
"I would have to threaten to quit every time I wanted funding for it," he adds with a laugh.
For someone whose music can be confounding — and admittedly difficult to play — Rosenblum is warm and friendly, and perhaps that's part of what makes him successful. He talks about his pieces with equal parts enthusiasm and self-deprecating detachedness. "That was sort of the culmination of that interest in multiple narratives," he says of one complex operatic piece. "I think I've finally gotten beyond that. But it took a while to play that thing out."
In the past two years, Rosenblum has had two full albums of his work released: In 2012, New World Records pressed a compendium of his works, from 1989's "Circadian Rhythms" to 2011's "Two Harmonies," and last fall, BMOP/sound released 2001's "Möbius Loop" in two versions on a CD along with "Sharpshooter" and "Double Concerto."
Since the albums range in terms of composition dates, they serve as something of a disjointed walk through much of Rosenblum's body of work. The parts of the "Circadian Rhythms" suite range from percussive, improvisational-sounding moments to repetitive, rock-band-inspired movements that recall Glenn Branca and Rhys Chatham, and parts that sound like detuned jazz — at once beautiful and uneasy. (That's one facet of the microtonality that is Rosenblum's trademark; another is the Eastern-sounding keyboard work in "Two Harmonies.")
"He's always been interested in repetition," says his colleague Moe. "Not in a mindless way, but in a really intriguing way. How you deal with the memory of things you've heard before, but they've changed so slightly — or even a lot.
"Was a time when you were either a strict minimalist, the Phil Glass, or you were doing the anti-Phil Glass thing. Mathew was able to sort of steer the course between the two of them."
Composing is "a process that goes on, and it never ends," says Rosenblum. "Every time I write a piece, I feel like I'm starting from scratch and learning again. I'm not sure exactly why. You don't want to fall back into things that you know. ... I like to try to keep hearing new things and moving in different directions."
Even as he moves in other directions — he's currently working on a Guggenheim Fellowship, and will return to teaching later this year — Rosenblum's older work continues to come around. This Saturday night, Jan. 11, at The Andy Warhol Museum, h2 Saxophone Quartet will play "Möbius Loop" as part of a concert produced by Music on the Edge.
h2, which has been playing since the mid-2000s, chose the piece because Rosenblum helps curate the series (which h2 was recruited for by Amy Williams, who rounds out the composition program at Pitt along with Rosenblum and Moe).
"There are so many influences in his music," says h2's Geoffrey Deibel. "There's a strong groove element, there's an aleatoric element — at times, all four players are doing something different. There are a lot of tempo changes. There are a lot of parts that are hard for each player to play, and to play as an ensemble."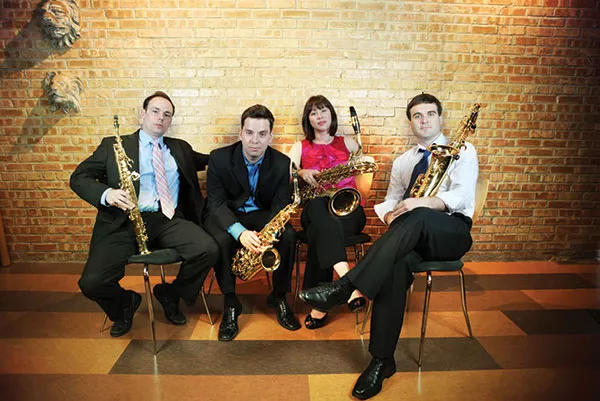 For a saxophone quartet, microtones mean playing in ways that are unconventional. "It's mainly a combination of strange fingerings," says Deibel. "Often in microtonal music they're quarter-tones, but in this piece there are quarter-tones and sixth-tones. It's a lot of preparation."
"We really like it and enjoy playing it," says h2's Jeffrey Loeffert. "I imagine it's something that's not played a lot because it requires a lot of intensive rehearsals, and it helps to have an ensemble that's been playing together as long as we have."
Rosenblum will also be featured this year as part of the Pittsburgh Symphony Orchestra's Year of Pittsburgh Composers. Part of the program takes five Pittsburgh-based composers, and commissions them to write a five-part piece based on the natural elements. Rosenblum is joined in that venture by Patrick Burke, Boomi Jang, Reza Vali and Amy Williams.
In pop music, it's normal for an artist to conquer his or her own city before becoming known elsewhere; in the world of contemporary composers, it's quite different. Rosenblum has lived for the past 20-plus years in Squirrel Hill with his wife Maggie and their two daughters, but his notability in new-music circles doesn't necessarily permeate everyday life here. For the symphony to highlight local composers is a step toward making people like Mathew Rosenblum notable in their own environs, not just in New York.
In February, Music on the Edge will present a program of Burr Van Nostrand's music at Bellefield Hall; Lindsey Goodman, Dave Eggar and Eric Moe, along with the New England Conservatory Chamber Ensemble, will play two pieces by Rosenblum's onetime mentor. Having his own piece played is great, but this is what Mathew Rosenblum is excited about.
"Burr is this sort of undiscovered genius guy who got lost in the shuffle in the '70s," Rosenblum explains. "It was very exciting, then people lost track and he hasn't written anything in 30 years. And he was one of my first mentors. He's coming down, and it's a very important event for us."