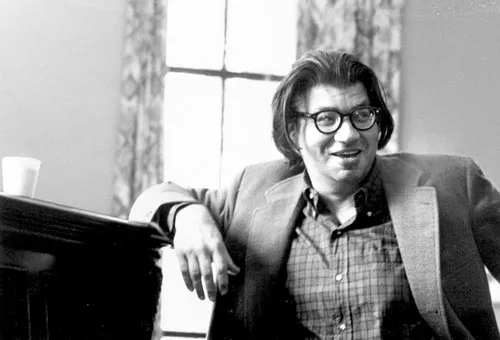 While growing up in Buffalo, Amy Williams was introduced to musicians and composers on a regular basis. Her percussionist father, Jan Williams, was a faculty member at the University of Buffalo's music school, so concerts in the Williams living room and musical dinner guests were fairly typical occurrences as well.
But it wasn't until years later that she really understood the prominence of one of her dad's university colleagues. Known to the family as "Morty," this big bear of a man would sit at the dinner table, cigarette dangling from his lips, telling stories -- many on the racy side -- in a thick New York accent. "He always seemed a little out of place in Buffalo, even back then," she says.
After college, as Williams began to pursue the family business of playing music, she discovered that this boisterous guest was Morton Feldman, one of the country's most revered modern composers, on whom is bestowed the same reverence as legends like John Cage and Christian Wolff.
Now an assistant professor of music composition and theory at the University of Pittsburgh, Williams -- along with Music on the Edge, the university's series devoted to contemporary music -- is presenting a two-day mini-festival/symposium on Feldman this week. The event attempts to uncover how Feldman, who passed away in 1987, continues to have an impact that spans contemporary new music into genres seemingly as remote as electronic music and DJ culture. It includes performances of two of his later pieces and a discussion of his legacy, with a few musicians -- including former Feldman students and Jan Williams, whose percussion inspired and premiered several of his works.
Both Amy Williams and her father say that Feldman was a man of dichotomy. "He was a big man, physically, with a big personality. He was a force," says Jan Williams. "First of all, he was extremely intelligent and articulate, and this with his strong New York accent. He didn't come on like an erudite intellectual, but boy, was he."
Feldman had poor eyesight and in his years at Buffalo, it required intense focus to write. "When he looked at the keys on the piano, he had to get right down there, within a few inches of the keyboard to see what note was which," Williams says. "So he had this physical closeness to the keys and he would create this kind of sound, this dynamic [which] was his dynamic. I think it had something to do with [how he wrote] -- the fact that he was impressed with being that close to the sound."
Despite his reputation for stealing the spotlight at the dinner table, the Feldman that comes across in his music typically sounds quiet and gentle, often with a great deal of simplicity in terms of melody. "Crippled Symmetry," one of the two pieces to be performed this week, lasts approximately 90 minutes. (See sidebar.) The trio of piano, flute and vibraphone stay in very restricted areas of just a few notes, to dream-like effect.
"The first time I heard 'Crippled Symmetry' live, I was organizing a festival," says Amy Williams. "I had a million things to do and a high stress level. As soon as the music started, I was just engrossed. It's a listening experience that's like a meditation that can transcend you, take you to a different state."
Despite his close ties to composers like Cage and Wolff, Feldman often drew influence from non-musical sources. His friendship with visual artists like Robert Rauschenberg inspired his early works, and his later pieces were connected to his fascination with the construction of Turkish rugs, which he believed were made anonymously by women. They inspired pieces like "Crippled Symmetry," Jan Williams says, in that "there's a kind of symmetry that's in a lot of these rugs. It's crippled because they've run out of a color [in some places], so they add another color or they'd go to another type of [material] and it'd be different. He would talk in terms like, 'Wow, look at the move she made here.' And it affected him compositionally."
Combined with these remote influences, Feldman often came up with works that would last several hours. One string quartet, played in its entirety, takes six hours to play. A trio piece, "For Philip Guston" (named for the late neo-expressionist painter), lasts four hours, which Feldman and Williams didn't realize until they premiered the piece in 1984.
"When we rehearsed, we did it in sections, 20 or 30 pages and then we'd stop and discuss it," Jan Williams recalls. "At the premiere, we hadn't actually played it all the way through, non-stop. When we played the piece, I lost total sense of time. I knew it was a good piece of time because it was sunny outside when we started and it was dark when we finished."
Amy Williams, who has performed Feldman compositions at other festivals, says his work has gotten more attention in the years since his death, but she has trouble pinpointing the diversity of his followers. "He gets many more performances of the difficult, late works which are so challenging because they're so long," she says. "I really can't say why. I'll be curious to get the opinions of people that are coming in for the symposium."
The concerts, which take place Thu., Nov. 3, and Fri., Nov. 4, mark the first time Music on the Edge has collaborated with Wood Street Galleries. Each night will begin with a poetry reading -- by Jan Beatty, on Thursday, and Lynn Emmanuel, on Friday. The symposium sessions take place Friday at the University of Pittsburgh's Music Building.
SYMPOSIUM: THE LATE MUSIC OF MORTON FELDMAN Thu., Nov. 3, and Fri. Nov. 4. Concerts at Wood Street Galleries, 601 Wood St., Downtown. $15-20, Pitt students free with ID. 412-624-4126 or www.music.pitt.edu