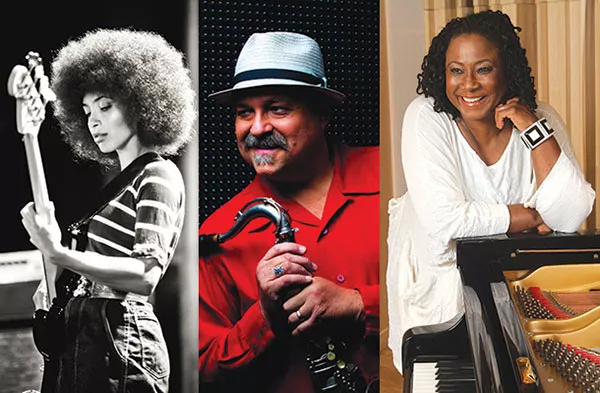 Last November, the 43rd Annual Pitt Jazz Seminar concert served as a tribute to Nathan Davis. The saxophonist launched the event and made it an annual tradition of lectures and events, which culminate in a concert where internationally renowned jazz musicians capture the lively feeling of classic blowing sessions. Davis retired as director of jazz studies during the previous summer, and pianist Geri Allen took the position and led the concert.
The first tune the group played was a Davis composition called "If." While previous concerts came out of the gate with an upbeat hard-bop tune that gave everyone some blowing room, this was different. It opened with a slow, almost swampy feeling, continuing for nearly 20 action-packed minutes. Had there been a bass clarinet among the 12 musicians onstage, it would've sounded like an outtake from Miles Davis' Bitches Brew, the dense, groove-based album that merged jazz with electronics and paved the way for fusion. Even as the performance was saluting Nathan Davis, it was also moving forward under Allen's direction.
Speaking by phone, Allen says she wasn't trying to break from the Pitt Jazz tradition. "The piece of music that I picked for us to start out with ... accommodated different points of view," she says. "It really opened up the landscape for us to be expressive in our own way. My interest is really to acknowledge and celebrate Dr. Davis, and also do what people have come to expect: Have a good time on the stage and with the audience that's been so loyal and a part of the journey for 44 years."
This year's concert includes drummer Terri Lyne Carrington and bassist Esperanza Spalding, who play in the ACS Trio with Allen. Spalding got an extra bit of notoriety when she won the 2011 Grammy for Best New Artist, a first for a jazz musician. Completing the lineup are saxophonists Tia Fuller (who has released her own jazz albums in addition to touring with Beyoncé) and Joe Lovano (a jazz-seminar veteran), trombonist Clifton Anderson and the vocal group Afro Blue.
Having four female instrumentalists on the bill emphasizes the greater role women have in the music. But Allen sees them as part of the bigger picture. "I called these women together because I know that they're some of the most important musicians of our time," she says. "And that's my interest: to bring in a diverse perspective on jazz. Terri Lyne is a leader, in the same way that Esperanza is, and Tia is. As well as Joe. All of these musicians are major leaders in their own right."
Hailing from Detroit, Allen attended Pitt in the '80s, receiving her master's degree in ethnomusicology before moving on to New York, where she made her name as a bandleader. Her time here gave her a good perspective on the city's jazz history and its supporters. "I have really great respect for the legacy that Pittsburgh represents. It's really far-reaching, and of course we're reverential to that," she says. "So I'm looking forward to celebrating that in a variety of ways."