This weekend, music blogs
The Alternative
and
The Grey Estates
are teaming up with local booking collective
Don't Let The Scene Go Down On Me!
for
Pitt Gets Alternative
, a two-day DIY music festival taking place Friday and Saturday at The Mr. Roboto Project. The festival features local acts like Rave Ami and BBGuns, as well as national acts like Stef Chura and Wild Pink.
"It's DIY in the sense that three out of four of us are learning as we go," says Eli Enis, an editor at The Alternative, "and making it happen without any sponsors or outside funding/influence."
This year is the first edition of the event, and before the kickoff of what could be an annual festival,
Pittsburgh City Paper
talked with Enis (who has freelanced for
CP
) about the ins and out of creating and running a DIY music festival.
Where did the idea for Pitt Gets Alternative come from?
For a while, Henderson Cole (founder/EIC of The Alternative) and I had been tossing around the idea of doing a fest in Pittsburgh, since he put on one in Philly a couple years ago and we did a really successful one at SXSW earlier this year. Once the idea was actually in motion we wanted to bring on The Grey Estates and Don't Let The Scene Go Down On Me! Shows to make it happen, since Brett of DLTSGDOM helps run Roboto and The Grey Estates is sort of like The Alternative's sister blog.
What makes the festival 'completely DIY'?
The festival is entirely organized by me, Henderson, Lauren Rearick of The Grey Estates, and Brett Schumaker of DLTSGDOM. As in, we chose and booked all of the bands, secured the venue, and have been promoting entirely by ourselves. I also think it's worth noting that although [Schumaker] books shows professionally (on his own, not with a company, which is inherently DIY), [Rearick], Henderson and I aren't bookers — we're bloggers. Those two have put together fantastic SXSW showcases over the last couple years, but this is the first legit music event I've ever booked. So I think it's DIY in the sense that three out of four of us are learning as we go and making it happen without any sponsors or outside funding/influence.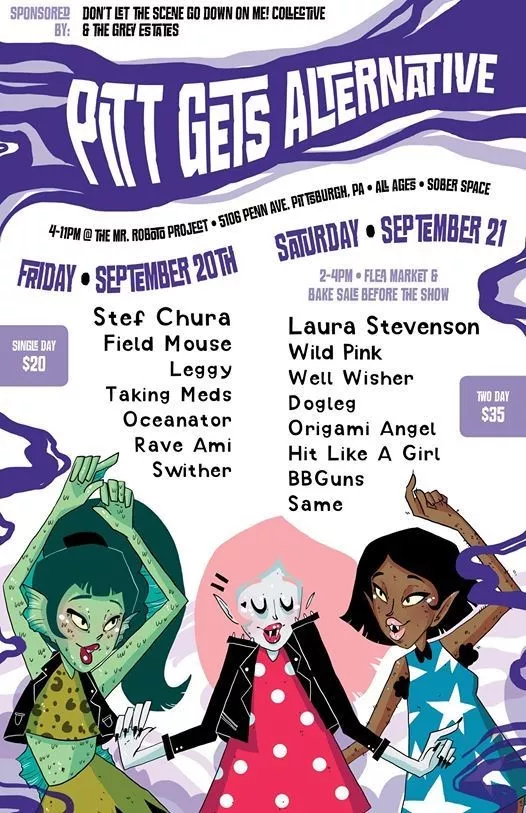 Why the decision to have no corporate sponsors? How did you get funding to put on the festival?
The fest is 100 percent self-funded by The Alternative, with some help from The Grey Estates and DLTSGDOM. This money comes from The Alternative's Patreon supporters, who are readers that support the site and allow us to keep the lights on and create events like this. I think the decision to go without corporate sponsors wasn't even a decision as much as it was just the way we do things in our respective ventures. The Grey Estates and The Alternative are completely self-funded and/or reader-supported, and DLTSGDOM is [Schumaker's] company that he's built from the ground up. At least for the first edition of this fest, we wanted to do it the way we do our other projects; again, DIY.
Are there any challenges that you faced when planning the festival, that you might not have come by if the festival wasn't DIY?
Funding is always a barrier in the DIY setting, and although we were able to get so many great acts within our budget, our aspirations are always for something grander. We're really hoping that this happens again next year, and now that we've learned so much about how to put together a fest and know to do certain things differently going forward, we'll be able to handle the back-of-house aspects more effectively so we have more time to prepare — and hopefully more funding.
Who was involved with picking the lineup, and what did that process look like?
The lineup was decided between the four of us. Henderson and I had a bunch of ideas and put together about half of the lineup. Then we had [Rearick] and [Schumaker] give their thoughts on who they wanted to play and how the bill should be spread out. It was mostly done over group text and email, and I think we're all really happy with how it all came together.
What aspect of the event are you most excited about?
I'm really excited to see such a variety of bands and artists play together over a two-day period. I think the lineup really reflects the diversity of not just our site's coverage, but what the broader "indie" scene has to offer in 2019. We were very conscious about diversity within the line-up and we didn't want it to be sub-genre specific, or age-specific for that matter. We have bands who are just gaining a buzz in DIY venues across the country, bands who've been playing for over a decade, and many bands who are on the cusp of breaking out with their first or second record. There's emo, power-pop, indie-rock, singer/songwriter, and experimental hip-hop on the bill, and I'm really excited to see the multi-faceted crowd that that make-up brings out.
Anything else you feel is important for audiences to know?
Personally, I think it's really awesome that two blogs (and a DIY booker) are putting together a two-day music festival at an all-ages venue. I'm obviously a bit biased here, but I think blogs are a really important component of the underground music universe and although many people are dismissive of blogging's continued influence (specifically music blogs) in an era of myriad media sea changes, this fest is tangible proof that blogs aren't just motoring away on the internet—they're organizing a music festival with some of the hottest up-and-coming indie musicians of our time.
This festival was truly a team effort between the four of us and we're each really excited to see these bands and provide yet another cool opportunity for Pittsburgh music fans.