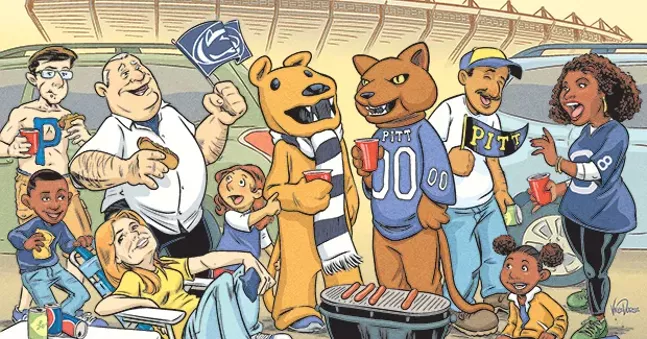 The last college football game between the commonwealth's two prominent programs attracted the largest crowd for any sporting event in Pittsburgh. The next one is Saturday night, and the scene at Heinz Field is going to be spectacular: a packed house, with a near 50-50 split; generations of alumni and students; cheerleaders and marching bands; a football game serving as something bigger; a college party in a pro town.
Who knows when the city will experience anything like it again?
There is no guarantee the 99th Pitt-Penn State college football game won't be the last one in Pittsburgh, which might as well be the headquarters for this rivalry. (Pitt is the city's university, and Pittsburgh is home to more Penn State alumni than anywhere.) After a game at Beaver Stadium next year, the 100th meeting in the storied rivalry, 2030 is the next year when Pitt or Penn State could resume a college football series that dates to 1893. There is no plan in place for a resumption.
By 2030, the Pitt-Penn State football series will be older (137) than the number of miles between Oakland's Cathedral of Learning and State College's Old Main (134).
So, how is it possible — with all of this history between the schools, and all of this demand from the alumni, and all of these smart people calling shots at the institutions of higher learning — that Pitt and Penn State can't figure out how to keep playing football every year? The short answer: college football isn't about history, fans, or educators. It's a business, a big business, a bottom-line, win-at-all-costs business that throws everything else out the window.
PEOPLE AT PITT clearly want to keep a yearly football date with Penn State. They also clearly place blame on Penn State's people for it not happening. It's not an unfair position to take.
Penn State's football folks have rejected proposals from their Pitt counterparts. They seem to enjoy taking a public stance of showing disinterest in the rivalry. Between 2020 and 2030, Penn State managed to schedule series against West Virginia (Pitt's other traditional rival) and Temple (the other major college football program in Pennsylvania), with the latter series slated to begin in 2026.
Pitt had proposed playing Penn State in, you guessed it, 2026.
Penn State fans are famously fervent, and they pridefully boast their football team has no actual rival. No opponent is deemed worthy, and certainly not Pitt. It's a contrarian position that manages to diminish and distinguish the rivalry, because Penn State supporters know their Pitt counterparts view a game against the Nittany Lions as the main event of any Panthers' season.
WHAT IS PENN STATE'S deal when it comes to Pitt? Pettiness? Big brother taking swipes at little brother?
Maybe. Or, perhaps Penn State takes a logical view of Pitt in the high-stakes game that is college football.
There is no upside to regularly facing the Panthers for the Nittany Lions. Only one of Pennsylvania's two college football powerhouses is consistently a top 25 program, if not a national title contender — and Pitt isn't it. In May, Nittany Lions coach James Franklin matter-of-factly addressed a rivalry that was and is, but soon won't be. "When you're talking about Penn State doing what's best for Penn State, I don't know if it makes a whole lot of sense," he said.
Franklin's job at Penn State is to chase national championships. A 42-39 loss to Pitt in Pittsburgh two years ago probably prevented Penn State from playing for one. And you know what they say about fooling somebody twice.
Penn State fans might dismiss Pitt's football program, but Penn State's coach knows a yearly game against the Panthers will probably conflict with his best interests. It's not pettiness that prevents Penn State from playing Pitt. It's plainly recognizing that little brother will beat big brother if they scrap often enough.
Penn State already has enough big fights built into its Big Ten schedule; in-division games against Michigan, Ohio State, and Michigan State leave little margin for error with out-of-conference opponents. To contend for the big prize, the Nittany Lions can schedule only one out-of-conference opponent with name recognition. (Since 2016, Pitt's been it. In future years, Virginia Tech or Auburn or West Virginia will fill that role.) Around the one marquee non-conference game and the Big Ten schedule, Penn State's football team must feast on lesser programs that will happily trade a beating in Happy Valley for a huge payday.
This is how titles are taken in college football. Just ask Alabama coach Nick Saban.
Penn State's football people could say, "It's nothing personal, Pitt; it's just business." They would be thought of as smug. They wouldn't be wrong.
Playing Pitt is no way for Penn State to handle its business, which should make Saturday night at Heinz Field all the more spectacular. That's lousy for the Pitt-Penn State rivalry. It stinks for the fans. And it guarantees that this and future generations of alumni will be connected in the way several were from 1983-1992.
But college football isn't about any of that stuff. Once a tradition, Pitt-Penn State is a treasure soon to be buried because that is what's best for business.
Follow featured contributor Adam Gretz on Twitter
@AGretz
.