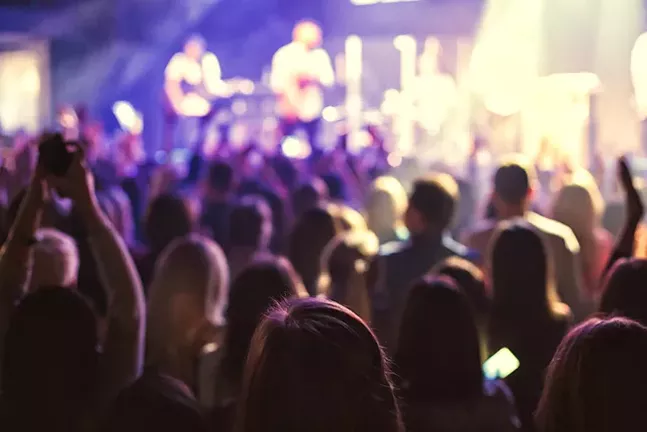 Pitt Fest started as an April Fools' joke in 2017, as a one-night Oakland basement show with nine bands. But it's evolved into a five-venue event spanning six days and including over 45 performers. Although Pitt Fest has no affiliation with the University of Pittsburgh, its name stems from previous lineups where at least one member of each act attended the school. As the event grew, it became clear that the musical talent in Pittsburgh spanned the entire city.
But as Pitt Fest's Facebook page states "chances are if you were ever a young musician in Pittsburgh you had your start, or at least played once, in an Oakland basement." Pitt Fest is a way to celebrate music and community, recognizing that the DIY basement scene in the 'Burgh is the origin for much of the city's talent.
This year, along with shows at basement spots The Bushnel and Ba Sing Se, Pitt Fest venues include The Mr. Roboto Project, The Glitter Box Theater, and Howlers, in appreciation for the potential growth out of those avant-garde spaces.
Here is the rundown for Pitt Fest, along with music writer Jordan Snowden's curated picks.
Day 1: Thu., March 28. Howlers, Bloomfield. 8 p.m. $5-10.
Performers: Sleeping Witch & Saturn, The Zells, Paddy the Wanderer, Bunny Boy
Day 2: Fri., March 29. The Bushnel, Oakland 8 p.m. $5-10.
Performers: Kenny Greene, Voodoo Lu, Pick Patek, Koncious Kel, Lil Acey, RLA, Kiwano Sour, Inner State 81, KAYN
Day 3: Sat., March 30. Mr. Roboto Project, Bloomfield. 7:30 p.m. $8-10.
Performers: AllegrA, Pinstripe Sunny, Hearken, Rue
Day 3.5: Sat., March 30. Howlers, Bloomfield. 10 p.m. $5-10. 21+
Performers: Slugss, Same, Royal Haunts, Metacara
Day 4: Thu., April 4. Ba Sing Se, Oakland. 7:45 p.m. $5-10.
Performers: Secret Nudist Friends, Blushed, TV 2000, Swither, Baseball Dad, Tap Shorts
Day 5: Fri., April 5. The Glitter Box Theater, Oakland. 8 p.m. $5-10.
Performers: The Sunflower Club, Red Baron Drums, Pharaoh Lum, Tribe Eternal, T.K. KAVI, The Petals, BBGuns, Soup of the Weak, Akono Miles, C. Scott, Tobu Toro
Day 6: Sat., April 6. The Bushnel, Oakland. 5 p.m. $5-10
Performers: Surf Bored, Go Home Eddie, Jorts Season, Ultra Deluxe, Glam Hand, Short Fictions, Mist Youth, Water Trash, Arctic Glass, Ferdinand the Bull, Alvin Row, Garrett Holt
Jordan's Pitt Fest Picks:

Must-See Artists: BBGuns, Kiwano Sour, The Sunflower Club, Koncious Kel, The Zells, Slugss.
Artists to Watch: Lil Acey, Royal Haunts, Soup of the Weak, Jorts Season, Blushed.

If You Could Only Attend One Day: Day six. Most like an outdoor festival, the final day of Pitt Fest includes a cookout and features the highest number of novice music acts. Eat food, enjoy the weather, and discover new local favorites.